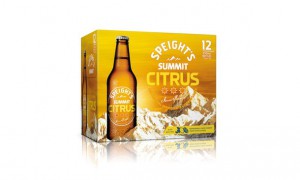 Speight's is proud to announce it's newest and zestiest brew to date, Speight's Summit Citrus. Combining classic Kiwi citrus flavours with the natural ingredients of Summit Lager, the result is a clean, golden, 4% lager with a twist.
Ben Wheeler from Speight's says: "Our brewers have taken a great quality lager and given it a citrus boost of lemon and mandarin to create a delicious Citrus Lager that is perfect for those times when you're searching for something a little extra from your beer."
Brewed by blending fresh light colour malts with Kiwi citrus and four subtly different hops, the result is a beer with a golden colour and a refreshingly zesty finish.
Speight's Summit Citrus is available now in 12 packs at all good liquor outlets RRP $19.99.
The original Speight's Summit will also still be available.