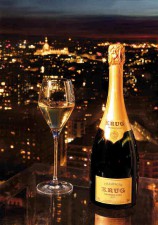 Krug, the world's best-rated House of Champagne, and fabulous eateries across the country have teamed up to launch the latest in informal dining endeavours, #TKIF – Thank Krug It's 5 O'Clock.
Taking place from 5pm every day in November and December 2015, #TKIF redefines the concept of casual after work drinks with Krug Grande Cuvée available 'by the flute' along with exciting food pairings in select locations. 
Traditionally only available to purchase by the bottle, having Krug available 'by the flute' is an exciting opportunity to celebrate with style this party season. "Your first experience with Krug champagne is one of life's most exciting moments, 'Thank Krug It's 5 O'Clock' is a great opportunity for people to try this exceptional champagne" says Krug Senior Brand Manager, Rai Banbury. 
One location in particular, The Grove in Auckland, has created an out of the box food pairing to celebrate – French fries with freeze dried Krug Champagne and salt as a garnish. As The Grove head chef Ben Bayly explains "putting the French in French Fries in this way is pushing the boundaries with food and wine pairing in a way no one would expect, creating both a comfortable and accessible moment of luxury." 
In Auckland, Thank Krug It's 5 O'Clock will be available at both The Grove and Ostro. Christchurch's Bloody Mary's and No. 5 in Queenstown will also be hosting the promotion until the end of the year. 
Thank Krug it's 5 O'Clock will run from November 2nd 2015 until 31st December 2015 and offerings are:
The Grove, Auckland, $65 by the flute. Complimentary French fries accompanied with freeze dried Krug champagne when you purchase 2 flutes.
Ostro, Auckland, $60 by the flute.
Bloody Mary's, Christchurch, $49 by the flute. Food match: ¼ Dozen champagne tempura pacific oysters with black truffle & wasabi mayonnaise, wakame & radish. 
No. 5, Queenstown, $42 by the flute. Food match: Entree: Dry-cured cold-smoked salmon,
Shaved asparagus and elderflower mousse on toasted brioche or Main: Groper fillet with dauphine potato ,hollandaise, shaved NZ white truffle, pea & tarragon puree.