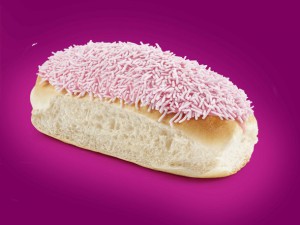 From April 21 to May 11, Bakers Delight bakeries across New Zealand will donate $1 from each Pink Finger Bun sold to Look Good Feel Better, helping New Zealanders affected by cancer.
This year in addition to buying a Pink Finger Bun, New Zealanders can also purchase a Pink Butterfly silhouette, to spread a message of support to someone affected by cancer. All the proceeds will directly benefit workshops in communities throughout New Zealand.
Look Good Feel Better provides a free service to people undergoing treatment for any cancer through Feel Better Classes, offering advice, support and makeover sessions. Trained volunteers help patients get back to normal, with ways to combat visible changes and gain confidence during and after treatment.
Clare O'Higgins, General Manager of Look Good Feel Better, says the continued support from Bakers Delight customers is vital, as the charity receives no Government funding and relies on partners, communities and public support. "We hope New Zealanders get behind the campaign to support Look Good Feel Better patients during a tough and anxious journey.  Free Look Good Feel Better workshops give the participants control, support and a sense of community with others at a time in their lives when they need it the most," she says.
Approximately 60 New Zealanders are diagnosed with cancer each day. Since inception, Look Good Feel Better has helped over 38,000 patients and this year will run an increased number of classes – 300 workshops in 40 regions, reaching more than 3,000 women. "Bakers Delight has been supporting Look Good Feel Better since 2006 and we are humbled by the long-standing partnership we have," O'Higgins says. "Our goal is to reach more women living in their local communities rather than travelling long distances to classes."
"We are proud to say that the money raised from local Bakers Delight bakeries throughout New Zealand will go back into helping people in those towns, through our workshops," she adds
Xavier Barnsley, Bakers Delight New Zealand Country Manager, says bakeries will be turned pink to show support for Look Good Feel Better, the community and their customers.
"This is one of our favourite campaigns of the year and we hope New Zealanders get into the spirit of buying Pink Finger Buns, to support those in the community going through such a difficult and life-changing experience," he said. "Together we can make a significant difference, and sprinkle some change."
Bakers Delight will donate $1 from each Pink Finger Bun sold throughout the campaign to Look Good Feel Better, whilst Pink Butterflies can also be purchased for a gold coin donation.