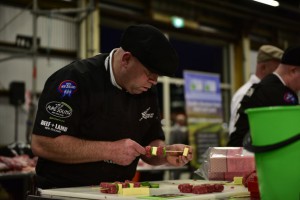 Six of the nation's best butchers have been named as part of the 2016 Pure South Sharp Blacks – New Zealand's national butchery team that compete internationally each year.
The Pure South Sharp Blacks will defend their three-time title in the 2016 World Butchers' Challenge, which sees the best butchers in Australia, Britain and France travel to the Gold Coast to take on New Zealand's national team.
First time team members, John Cox of New World Hillcrest, Nolton Laing of Harris Meats Cheviot, Rowan Lee of Peter Timbs Bishopdale and Hannah Miller of Neat Meat Ponsonby join returning members Greg Egerton of New World Mosgiel and Corey Winder (captain) of Elite Meats, Christchurch in the 2016 team.
The new members were selected to trial for a position in the team earlier in the year with two other butchers from across the country. Team Manager and founder of Hellers, Todd Heller handpicked the final team with assistance from Team Captain, Corey Winder.
Winder is looking forward to captaining a new group of talent to victory in this year's competition. "Since 2011 we've been a pretty tight-knit group with many of the team returning each year and this is the first time we've had four new members," says Winder.
"Having these young, talented butchers join the Pure South Sharp Blacks is hugely exciting and I believe we have selected butchers with a great mix of experience, determination and personality who have what it takes to help us win the title for the fourth time in a row."
The Pure South Sharp Blacks will now begin preparation for the World Butchers' Challenge to be held in the Gold Coast on September 10. This year's competition is set to be an even tougher challenge with France joining the United Kingdom, Australia and New Zealand for the first time.
The four teams have three hours to turn a side of beef, pork and a whole lamb into value-added cuts to produce a world-class display based around a theme of their choice.
The competition began as a Trans-Tasman event in 2011 and in 2013 was renamed the Tri-Nations Butchers' Challenge with the inclusion of the United Kingdom. Last year's competition was held in Auckland where the Pure South Sharp Blacks retained their Grand Champion title for the third consecutive year.