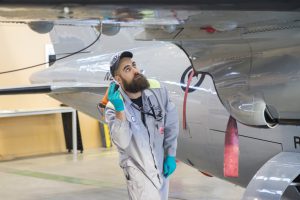 Move over sports stars. On Sunday, New Zealand's top trainees in aviation engineering, cookery and hospitality management battled national rivals to win the chance to compete against the best in the world at next year's international WorldSkills championships, sometimes referred to as the skills Olympics.
Up-coming aircraft engineer Jarrod Wood from Air New Zealand, and the New Zealand Defence Force's apprentice chef Nicholas Todd and trainee food and beverage manager Kimberley De Schot each won gold in their respective fields of expertise at the 2016 national WorldSkills competition, held at the Waikato Institute of Technology in Hamilton, on the weekend.
The top performers all upskill on-job according to high standards and training programmes designed by industry experts and ServiceIQ, Industry Training Organisation for the aviation and hospitality sectors, and others.
The triumphant trio will now go forward for selection to represent New Zealand on the world stage at the 2017 WorldSkills International Competition in Abu Dhabi.
Other medal winners who upskill according to ServiceIQ standards and training programmes were: ServiceIQ Aircraft Maintenance – Daniel Cornwall from New Zealand Defence Force (Silver), and Damon Barakat from Air New Zealand (Bronze). Cooking – Danielle Swart, apprentice chef from New Zealand Defence Force (Bronze).
WorldSkills NZ Aircraft Maintenance Skill Manager and Contest Organiser Michael Naus, says the competitors are a great inspiration for young New Zealanders considering a useful career in the trades and service industries that are vital for the country.
"It's gratifying to have so many excellent competitors from a diverse range of employers and training providers. They are skilled athletes in their trades and will provide our country with essential, valuable services," says Michael.
He says he is particularly impressed with the high level of skill on show in aviation maintenance: "This translates to higher skilled tradespeople in our workplaces and improved productivity and safety for our aviation industry."
Racing against the clock, the competition involves engineers dismantling and replacing engine components, an aircraft daily inspection, and the construction of an aircraft skin repair.
The various skills are hotly contested, says Michael: "For example the margin between Jarrod and     Daniel was a mere 0.75 of a mark!"
New Zealand already has a strong record in this exciting event that recognises the highly technical    and complex repertoire of skills needed for a safe aviation industry.
In 2013, Mike West (RNZAF) came second in the world when New Zealand debuted in the category at WorldSkills Leipzig, Germany; while in 2015, Kiwi aviation engineer Chris Robertson (RNZAF) was awarded a medallion of excellence and came sixth in the world in an extremely close-fought competition at WorldSkills Sao Paulo.