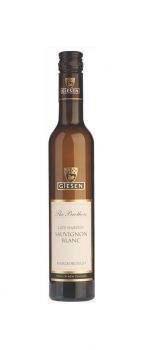 The growing international recognition of New Zealand sweet wines has been highlighted by a Trophy win for Giesen Wines at the renowned international wine competition, Concours Mondial du Sauvignon.
Concours, now in its sixth year, provides an annually updated snapshot of the global Sauvignon blanc wine industry. Giesen's The Brothers Late Harvest Sauvignon Blanc 2013 was awarded a Special Trophy for the Best Sweet Sauvignon at the competition. It has won nine trophies and multiple awards since the style debuted in 2011. Giesen Organic Sauvignon Blanc 2014 and Giesen Estate Sauvignon Blanc 2014 also received accolades.
Marcel Giesen said Sauvignon Blanc is New Zealand and Giesen Wines' most exported wine. It accounts for 86% of wine exported from New Zealand, worth more than $1 billion annually. "It's no secret that the mainstay of Giesen Wines' portfolio is the Sauvignon Blanc grape and we take great pride in celebrating its diversity."  
Styles produced under the Giesen label include Giesen Estate Sauvignon Blanc, organic, low alcohol, the traditionally fermented The August Sauvignon Blanc, and the Single Vineyard German oak-aged The Fuder wines. 
"We have one of the most diverse Sauvignon Blanc portfolios in New Zealand, producing eight main styles," says Marcel."It's so exciting that we can produce such a wide range of Sauvignon Blanc styles, highlighting the varietal and regional versatility. We have always had boundless enthusiasm for Sauvignon Blanc and continually exploring the myriad of possibilities it offers."
Giesen Wines first began producing its sweet botrytised wines in 1985, with a Gewurztraminer, later changing to a botrytised Riesling. 
"We subsequently decided that we wanted to showcase Sauvignon Blanc in this style," says Marcel, "it's a high acid grape variety that lends itself well to the sweeter style. Sauvignon Blanc is the cornerstone of our business and we wanted to use the grapes in another fashion." 
He said sweet wines would always have a niche in the market. "They can't be produced every season so that makes them wonderfully special. You have to wait for nature and the conditions are not always right."