A fierce determination to create beautiful and gripping food images has paid off for Auckland-based photographer Manja Wachsmuth.
Manja recently received two awards in the prestigious Pink Lady ® Food Photographer of the Year 2021, the world's leading celebration of the art of food photography and film.
The striking image she made of an octopus for Monique Fiso's book, Hiakai: Modern Maori Cuisine, won second place in the 'One Vision Imaging Cream of the Crop' category.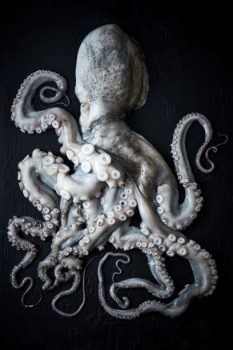 A shot taken during the grape harvest at Waiheke's Tantalus Estate received second prize in the Errazuriz Wine Photographer of the Year's people section.
Manja says being recognised in the awards, which attracted over 80,000 entries this year, is a huge coup.
"In a competition as tough as this one, being shortlisted let alone actually winning a category is an immense honour. I couldn't be more proud to put New Zealand on the map in a highly regarded competition that attracts the best food photographers in the world."
'Styling' the octopus that features in Hiakai: Modern Maori Cuisine (Penguin Random House NZ) was a fiddly, time-consuming and slimy task.
"In food photography, an octopus is usually presented inside out to expose the suction cups on the arms. I wanted to get this guy looking a bit more like a monstrous beast, pushing the boundaries of the camera frame," Manja says.
"I wanted to honor the importance of this creature and get it looking the part it plays in the Māori legend of Te Wheke-a-Muturangi. In this story, the famous explorer Kupe battles with a monstrous wheke (octopus) across the Pacific Ocean and this leads him to discover Aotearoa."
The harvest image, taken on Waiheke Island's Tantalus Estate, was taken just days before New Zealand went into its first Covid-19 lockdown in March 2020. Manja had been documenting life at the celebrated vineyard for a year, but remembers there was something in the air that day.
"The reality of the pandemic had hit our shores and the rumours of a lockdown brought the pressure of harvest on. The air was full of tension but I was able to capture this calm and graphic moment of the grapes being picked."
Manja has been working as a professional photographer for 20 years, shooting across the photographic spectrum for clients in Scandinavia, Europe, US, Australia and New Zealand. She's

best known as a food photographer and has worked with some of New Zealand's best-known chefs, such as Ben Bayly, Julie Biuso, Annabel Langbein and Peter Gordon. She has created brand imagery for several restaurants (including Ben Bayly's Ahi), food brands, cookbooks and magazines.
Now based in Auckland with her Kiwi husband and their sons, Manja combines her Danish heritage and New Zealand surroundings to create images that are clean, simple and authentic.
"I have a direct approach, which is partly my personality and partly my Danishness. I think Kiwis like things to be down-to-earth and that's something I've taken on too".
"My goal is always to create images that are beautiful in their detail and that serve as pockets of beauty and order amid the chaos of everyday life, and creates a safe space for reflection and connection."