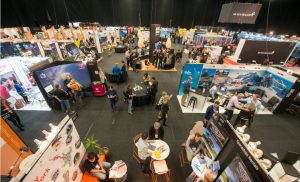 New Zealand's continuing popularity as a visitor destination is fuelling demand for international travel and tourism Buyers wanting to come to TRENZ 2017, our $35 billion tourism industry's most important international business event.
TRENZ 2017 is on in Auckland from 9-12 May and will be attended by 377 trade and tourism buyers from 29 countries across the globe, including Australia, the Pacific, Asia, Europe, Scandinavia, and North and South America.
"These are the most influential Buyers in terms of sending international visitors to New Zealand," says Chris Roberts, Chief Executive of Tourism Industry Aotearoa (TIA), which manages TRENZ.
"The Buyers are travelling here to negotiate contracts for the coming year and meet with 300 of the country's leading tourism operators who will be showcasing their products and services at TRENZ.
"In addition to reconnecting with well-established tourism operators, the Buyers will be keen to discover new and different experiences they can sell to consumers in their home markets."
Mr Roberts says demand to attend this year's TRENZ has been extremely high and the event is at capacity.
"That high interest reflects the buoyancy of New Zealand's tourism industry which is enjoying record growth. International and domestic visitor spending is at record levels, worth $34.7 billion in the year ending March 2016, and the industry is well on track to achieve its Tourism 2025 aspirational goal of $41 billion in annual revenue."
Mr Roberts thanked TRENZ Premier Sponsor Air New Zealand for flying the majority of Buyers from around the world to attend the event.
Air New Zealand Chief Executive Officer Christopher Luxon says TRENZ will highlight New Zealand's diverse attractions to an influential network of international trade and media.
"Ensuring our regional centres get their fair share of tourism's economic benefits is vital to achieving sustainable tourism growth that's positive for all New Zealand. Building demand for premium experiences throughout New Zealand is a key way to encourage visitors to stay longer, see more and spend more.
"We're pleased to play our part in promoting and connecting visitors to the unique destinations and experiences our country has to offer."Over the four day event, Sellers and Buyers will have a total of 17,000 15-minute meetings. It is business-focused 'speed dating'.
"Buyers tell us that TRENZ is the most important New Zealand tourism product purchasing activity they undertake," says Mr Roberts.
"The deals they make and relationships they build at this year's event will generate tens of millions of dollars' worth of new tourism business for the New Zealand economy, benefitting communities across the country.
"We will also be working hard at TRENZ to get traction for our industry goals of encouraging visitors to travel to more regions, and to come outside the peak season."