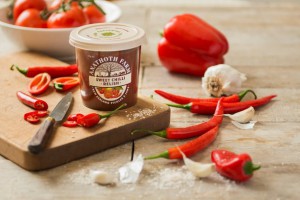 Anathoth Farm's Sweet Chilli Relish took out the relish category at the prestigious 2015 Australian Product of the Year Awards last week.
The awards are a culmination of Australia's largest independent consumer survey of new products, with more than 15,000 household shoppers surveyed to determine the winners. Not only do the awards guide consumers to the best products in their markets, it also rewards manufacturers for quality and innovation.
Anathoth Farm Sales and Marketing Manager, Danielle Esplin says, "We are absolutely delighted to have won the relish category in Australia's most renowned consumer awards. We already know how much Kiwis love our Sweet Chilli Relish so it's great that our friends over the ditch now relish it too!"
Made with New Zealand tomatoes, apples, capsicums and garlic, the award-winning Anathoth Farm Sweet Chilli Relish offers the perfect balance of a mild/sweet chilli heat that delivers a delicious, well-rounded flavour. It is made using simple ingredients, doesn't contain any preservatives, artificial colours or flavours and is naturally gluten free.
Barker's of Geraldine – the makers of Anathoth Farm – continues to support New Zealand fruit and vegetable growers, with its extensive varieties of jams, chutneys and relishes. For more information, recipes and the full product range, visit www.anathoth.co.nz