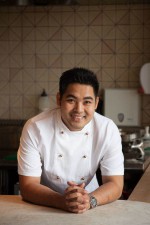 Authentic Northern and North Eastern Thai cuisine has arrived in style on the popular Ponsonby Road strip with the opening this week of saan, the latest offering from the owners of Café Hanoi.
 Head chef Wichian Trirattanavatin, better known as Lek, takes the helm in the kitchen at saan. Born, raised and trained in Thailand, Lek serves a taste of his homeland that many Kiwis will not have been exposed to. 
Focusing on Lanna (Northern) and Isaan (North Eastern) cuisine, the menu showcases traditional dishes from the Trirattanavatin family. The recipes have been passed down from generation to generation, a concept known as 'Sueb Saan' which represents the history of creating sustenance from your own land and this is evident in Lek's use of fresh, seasonal ingredients.
With attention on authenticity, the menu is divided into Khang Thang (street snacks), Jarn Rerm (smaller dishes), Jarn Lak (grand dishes or larger dishes), Khong Kiang (sides) and Khong Warn (desserts). 
Dishes include Sai Ua, Sai Krok Isaan, Lanna and Isaan pork sausages, Geang Sadoong, a semi-cured venison and Larb Ped, a wok-seared spicy duck and mint salad – all recipes from Lek's Grandmother. Another highlight on the menu is a crispy pork curry recipe called Moo Krob Prik Khing, from Lek's father.  
 Chef Lek received his formal training at Thailand's premier culinary institute, the prestigious Dusit Thani Palace College. Previously head chef at Café Hanoi, it has been Lek's dream to run his own Thai restaurant to share his family's recipes with guests. Coming from a family of chefs, Lek cites his grandmother as being his major inspiration. 
"I have a very deep respect for the tradition and culture which underpins the food we are offering our customers," Lek says. "It is my most important guide to ensure our dishes respectfully represent the traditional food my family and community would be proud of. I am so honoured to have this opportunity to develop saan; it's a dream come true for me." 
Inspired by Lek, the restaurant is the latest offering from inveterate restaurateurs Krishna Botica, Tony McGeorge and Jason van Dorsten owners of Café Hanoi and XuXu Dumpling Bar. 
saan director Botica says cosmopolitan Ponsonby is an excellent precinct for saan. "Ponsonby is in a key position in Auckland's buoyant dining economy where there's a local population which is adventurous and knowledgeable in its dining habits. 
"We are delighted the concept for saan came internally from our Hanoi family and a chef who is respected for his professionalism and integrity.  We felt Ponsonby was ready for something different in its already vibrant restaurant scene. 
"There is a pride in the local community and combined with their entrepreneurial spirit we thought it would be the perfect setting for Lek's vision of the home away from home he wanted to create," Botica says.
The saan beverage list includes a range of cocktails such as the Weeping Butterfly, Tomyum Martini and the Bittersweet Eternal Youth designed to evoke the senses of Thailand. 
Wines were chosen by sommelier Yahn Hansen to balance and enhance what is widely regarded as the most intense flavour profiles in international cuisine. "He accomplished this by finding mainly dry and mineral-driven varietals that are lesser known but no less impressive," Botica says.  "The simple wine list demonstrates the diversity between some of the greatest regions and sub regions the world has to offer."
A craft beer has also been made especially for the restaurant by Hallertau and will be available from November 10.
The restaurant capacity is 127, including a bar area seating 16, as well as a private dining room seating 20.