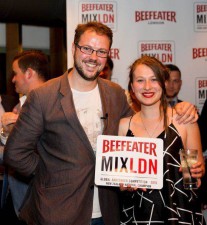 Ten of the very best bartenders from around New Zealand competed for the National Champion title of Beefeater MIXLDN Global Bartender Competition New Zealand.
Wellington is a far cry from London, but that's exactly where bartender Jessie Algar will embark next January 2016, as she prepares to represent New Zealand at the Beefeater MIXLDN Global Bartender Competition Finals.  The talented bartender from Wellington's Foxglove Bar will be competing in the Global Final to be held in the British capital, the home of Beefeater Gin.
After winning the New Zealand final on 22 November in Auckland, Jessie is looking forward to this once in a lifetime trip, where Jessie will share the stage with 30 leading bartenders from around the world, whilst competing for the ultimate title – the Beefeater MIXLDN Global Bartender Competition Finals.
"I was so excited to win the National Champion title and I'm incredibly proud to be representing New Zealand in London. It will be a joy to prepare my gin cocktail alongside some of the best in the business and in the birthplace of the world's most revered gin," says Jessie.
Jessie showcased their cocktail skills by creating a gin cocktail they felt best encapsulated the spirit of London, the home of Beefeater London Dry Gin and impressed the judging panel including Delaney Mes, Ben Stuart and Beefeater global ambassador Tim Stones.
An annual event in its fifth year, Beefeater MIXLDN Global Bartender Competition has become the biggest gin based competition in the world, with 30 countries participating in 2014 and over 1,000 entrants.
Jessie's Winning Beefeater Gin Cocktail – 'Commonland'
With increasing urbanisation of London, parks and 'commons' have served all types of Londoners as a space of common enjoyment. This is reflected in the ingredients of this take on a gin old fashioned.
Method:  All ingredients to a Boston glass, muddle fennel leaves, stir, double strain into a stem-less Riesling glass over ice, garnish with fennel leave and seasonal eatable, fresh flower.
Ingredients:
60ml of Beefeater London Dry Gin
1bs white sugar
2 dashes of angostura bitters
1 dash of peach bitters
2 generous sprigs of fennel leaves