Christchurch's Cellar Door wine bar and wine tasting room must be
doing something right.
After just 10 months of operation the classy venue in the beautiful south
quad of the city centre's historic Christchurch Arts Centre precinct
scooped four gongs at November's Christchurch Hospitality Awards.
Cellar Door was named Outstanding New Venue and Supreme
Establishment of the Year after what has been a whirlwind of an opening
year for the owners Tim Ogle and Kate Hide.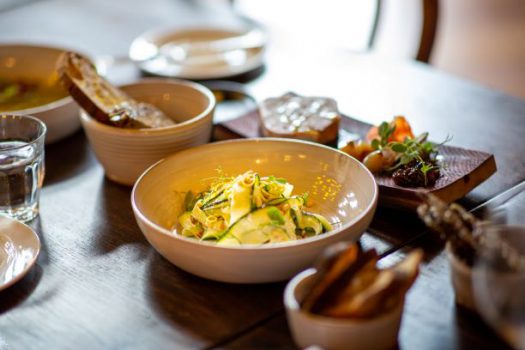 "We're totally humbled, considering for over two months of this year, like
so many venues, we weren't able to trade due to lockdown."
"We opened very quietly on January 3 this year and it's been a bit of a
ride," says a delighted Tim.
Equally as humbling was the fact that their other two awards were
Outstanding Wine Experience and Outstanding Design and Ambience.
"We were chuffed with that one as we designed the place ourselves,
together with my wife, Rebecca Ogle," says Tim.
Not only does the old heritage precinct offer the perfect setting for cosy
and intimate wine tastings, but Tim and Kate have gone all out to weave
quality education about each wine into the whole Cellar Door
experience.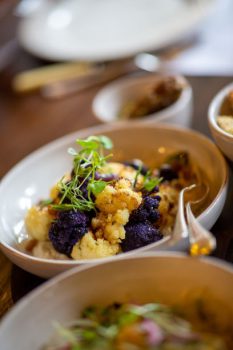 Wine flights are served up complete with full producerinformation. "Provenance is one of the most important things about what we do. There's a strong sense of place in the product as a whole," says Tim.
The Arts Centre is a very special place to the people of Christchurch, as
was Annie's Wine Bar which stood on the same site prior to the 2011earthquake.
It's taken all these years to get the historic 1830s and 1890s buildings rebuilt and restored as close to their former glory as possible. Originally the historic Christchurch Girls' High School until about 1865 or 1870, the buildings later became Canterbury College and School of Fine Arts.
A requirement of the Arts Centre is that even the commercial tenants
have an artistic or educational aspect and that's something Tim and
Kate have worked hard to achieve.
They honour the tasting room's rich heritage with curated art and
objects, all part of the Cellar Door experience. "We're very sensitive to
the history of the room and pay tribute to the old School of Arts, Annie's
Wine Bar which once stood here, and fine wines," says Tim.
Staves from old French wine barrels are woven into the interiors and works of art
include those from people who have studied in the room in days gone by.
Historic photos of the room in its previous heydays sit pride of place
on the walls and there's an intimate, cosy ambience that's just right for a
wine bar. Large, old style windows, high studs, plenty of natural light and exposed
brick walls, now a rarity in Christchurch post-earthquake, set the scene.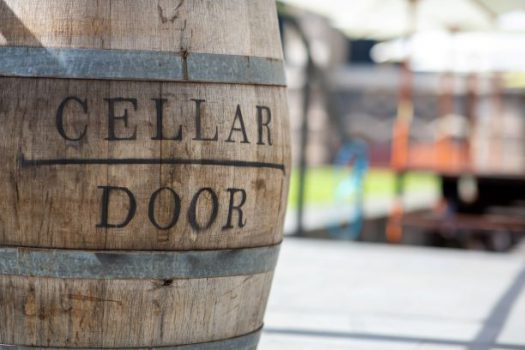 Cellar Door is already renowned for its wine tasting "flights", offering a
huge range of new and interesting wines that are not so regularly
available by the glass for tasting.
"We've had the idea for wine flights for a long time so when this site came up late last year (2019) it was a great opportunity," says Tim. "We offer about two dozen different flights, each is four 40ml pours of four different wines." By using argon gas wine preservation technology they can offer up rare wines by the glass from Canterbury, the rest of New Zealand and all over the world.
"The idea is to showcase wines at their best – wines that a lot of Kiwis haven't tried, and serve them with the right food," he says."A lot of what we do are the sort of wines you don't see every day onpremise in New Zealand, more than your normal Central Otago Pinot Noir or Marlborough Sauvignon Blanc."
The public have relished the chance to try these wines, especially now that they can't travel and have this opportunity to try rare international wines. "One of the big surprises is our flight of dry sherry. People have really gone for that," says Tim.
This is wonderful slightly chilled and served with house salted almonds. It's popular in Europe, but not something that some people who haven't travelled, have seen."
Rose is another popular pick, served with a burrata – large, aged
mozzarella ball injected with cream and served with tamarillo, cherry
tomatoes and prosciutto.
Orange wine – a skin ferment white wine – and Pet-Nat – a natural
sparkling wine – are also proving popular as are Cellar Door's marinated
white anchovies with gremolata and house picked shallots.

"Our food concept is a bit of a point of difference too," says Tim. Each
wine region is matched with simple, classical dishes with a strong
French, Spanish and Italian focus, with local seasonal produce.
"We pay tribute to simple, high quality, local produce from Canterbury.
Canterbury is the food basket of New Zealand. We have an amazing
selection," says Tim. "We make the ingredients speak for themselves by
not working it too hard, using simple presentation."
Cellar Door offers between 15 and 25 cheeses every day, sourced
through the local Canterbury Cheesemongers. "These are incredible on
their own, but usually we accompany that with quince paste made using
quince from my tree at home."
A full range of ripe sheep's and goat's milk cheeses include aged French
and Italian milk cheeses and soft-aged washed rinds.
Cellar Door is perfectly positioned with the Arthouse Cinema directly
upstairs. "We're trying to be as accessible as we can and we work very
hard on keeping our pricing reasonable so that we can create an
environment for customers who have a genuine affection for what we do."