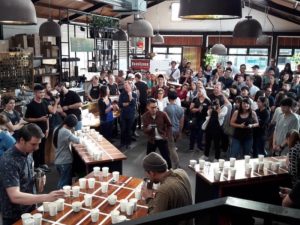 Representing New Zealand at the World Cup Tasters Championship & World Brewers Cup competition in Budapest, Hungary this year will be two Auckland professionals following the NZ Specialty Coffee Association's national competitions, held on March 17 and 18.
Competition venue, L'affre Melrose in Newmarket hosted the event, and a record 28 competitors fought to win the title of New Zealand Cup Taster Champion. Ken Shi of Roma Coffee Roasters in Drury won the award. Ken is a veteran competitor in the association's Barista & Latte Art, although he was a first time Cup Taster competitor. Ken's 8/8 score in round one secured him a place in the final where he beat three competitors, Takahito Koyanagi (reigning champion), Michael Stevens and Seulki Park, with a score of 8/8 in 5 minutes 17 seconds.
Seven Brewers Cup competition entrants showcased single origin coffees through soft brewing devices of their own choosing.
Winner, Nara Lee from Black & Gold – Coffee/Eatery in Rosedale, Auckland, used a washed Pacamara from Hacienda Don Julian, Panama. She described her entry in her taste notes as, "Like biting into lemon, white wine, with a medium body, juicy when it's hot and silky on cooling."
Her brewing style was unique, she used v60 glass drippers covered with heating cables controlled by PID. Runner up was Sarah Stephens and third place Dianne Wang.
Both Ken Shi and Nara Lee now have the opportunity to travel to Budapest to compete at the world championships, June 13 -15.