The demand for efficient, high quality and most importantly time-saving food safety equipment is increasing. The Testo Saveris 2 Cloud-based WiFi data logger system fulfils that demand and takes the task of manual temperature checks off your hands, allowing for more efficiency and time in your day-to-day business. Readings are automatically collected and documented at all critical points, and you can retrieve them from anywhere. It doesn't get any easier or more reliable!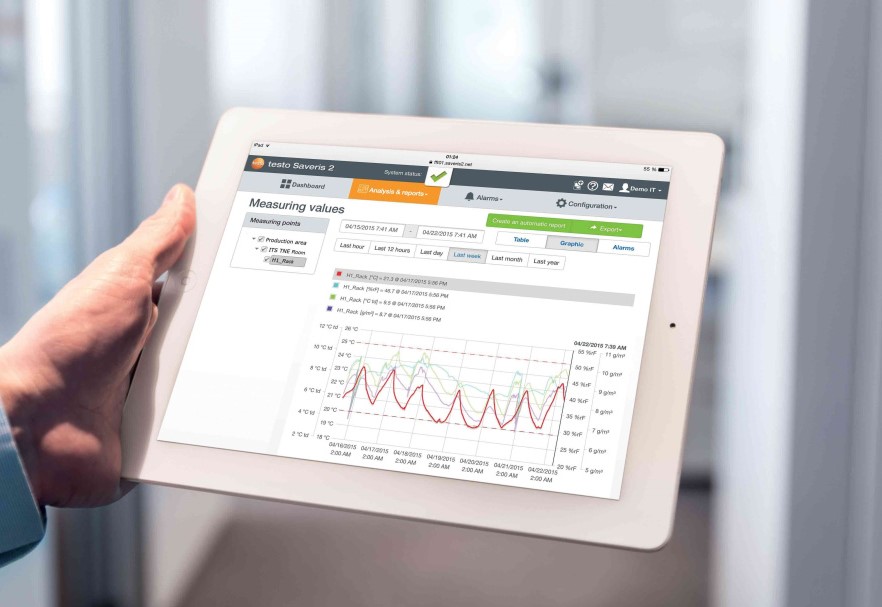 The Testo Saveris 2 WiFi Data logging System
The Saveris 2 WiFi data loggers reliably record temperature and humidity at defined intervals and transmit the measurement values directly by WiFi to the Testo Cloud. The measurement values stored in the Cloud can be evaluated at any time using an internet capable Smartphone, tablet or PC. When limit value violations occur, predefined users will receive email and txt alerts to devices immediately. No need to worry about security or time-consuming software, all you need is an internet connection, wireless LAN and Web browser.
Advantages at a glance:
SIMPLE: WiFi Data Loggers measure temperature and humidity automatically.
SAFE: Measurement values are stores in the data loggers and in the Testo Cloud. The Data loggers store up to 10,000 measurement values per channel.
FLEXIBLE: Access to the measurement values at any time with a PC or tablet or smartphone.
RESPONSIVE: Receive email and txt alerts when limit value violations occur.
PRACTICAL: The system can be adapted to your requirements and extended without limitation by additional loggers.
Ensure food quality and compliance
When dealing with fresh, easily perishable foods, it is essential that optimum ambient climatic conditions are always guaranteed, to prevent substandard goods coming into circulation. The use of Testo Saveris 2 ensures that the temperature at all relevant refrigeration units exactly corresponds to the stipulations. That secures the quality of your goods and makes sure your customers are satisfied.

In food and supermarkets
Fresh foods present a daily challenge to those responsible for quality in food retail. Fruit, vegetables, meat, fish, or dairy products must not only look appetizing, they must also be hygienically faultless and therefore safe. In both cases, the temperature is crucial. The automatic wireless LAN data logger system enables all relevant refrigeration units to be monitored and documented without manual effort. This secures food quality, your good reputation and turnover.

In butcheries, bakeries and food-processing businesses.
Bakeries, butcheries and smaller food-processing businesses such as delis or snack bars face the special challenge of often having to deal with food production, storage and sales all under one roof. In large kitchens such as canteens and catering operations too, a high level of care, diligence and expertise is required.
In this regard, Saveris 2 takes a lot of work off your hands by ensuring that all temperatures are monitored at all critical points. And reliable alarms in case of a limit value violation provide added security. Knowing this, you can concentrate on what's important – making your customers happy with quality.
Testo Saveris 2 is suitable for a variety of applications from food production to restaurants and catering. Visit www.testo.nz to found out more or get in touch with us directly to discuss your requirements. 09 579 1990 or email us at sales@eurotec.co.nz