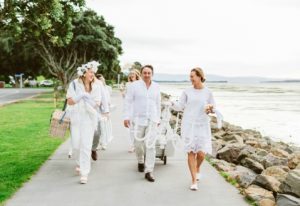 Le Dîner en Blanc, the world's largest pop-up picnic, is making its debut in Tauranga on Saturday 18 March 2017. A surprise location will be transformed into the coveted, top-secret event, which is in equal parts mystery tour and pop up feast, is aimed at bringing people together for a memorable evening.
Launched in Paris nearly 30 years ago by François Pasquier and a handful of friends, Le Dîner en Blanc has grown from a "friends and word-of-mouth only" event into an international epicurean sensation in more than 70 cities from New York to Hong Kong. Le Dîner en Blanc guests are dressed head to toe in white and armed with picnic baskets ready to share a gourmet meal with good friends in the most beautiful locations in the world.
Organisers of the Tauranga edition say it's the perfect city for the super-sized picnic.
"We have some of the most gasp-worthy landscapes and public spaces in the country and a community that appreciates sharing good food with great friends in a unique way," says Kimberley Cleland, co-host of Le Dîner en Blanc – Tauranga. Kimberley joins Rachelle Duffy (Little Big Events) and Dayna Comeskey in creating the first edition of Le Dîner en Blanc – Tauranga. "The spot we've chosen is iconic in Tauranga, so it's a natural choice and going to be pretty special. Guests will meet at a chosen departure point on the day of the event and be escorted to the venue to ensure the location is kept secret until the last minute."
Kimberley says more than 100,000 foodies and cultural enthusiasts around the world have embraced the pop-up epicurean event.
"We have had more than 500 people register interest in the event already," she says. "We've fallen in love with the idea of a secret picnic and envisage the event becoming a long-standing tradition for the Tauranga community."
She says what makes the event really unique is that everything on the night is white– including the dress code.
"Each guest is required to bring a table, two white chairs, a white tablecloth, white dinnerware and a picnic basket bursting with fine food," says Kimberley. "For the dress code, originality and creativity are encouraged, as long as the outfits are stylish and elegant. Wine, champagne and food can be purchased with tickets."
To attend Le Dîner en Blanc – Tauranga you must sign up to the waiting list at https://tauranga.dinerenblanc.com/register by 5 February 2017