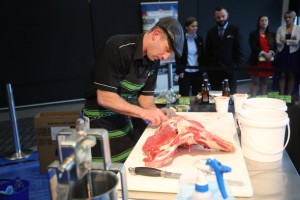 Across New Zealand, young butchers are preparing for the battle of their careers in anticipation of the 2015 Alto Young Butcher and Competenz Butcher Apprentice of the Year.
A total of 73 butchery protégées have entered the regional stages of the competition in the hopes of making it to the Grand Final on September 10 at Shed 10 in Auckland.
Competition Organiser, Pippa Hawkins from Retail Meat New Zealand says the event is now widely recognised within the industry with past competitors reaping huge benefits.
"Those in the trade are now actively looking for employees who have been involved in this competition. They recognise the skills they learn from it, from practical techniques to self-development, set them apart from the rest.
"It's promising to see that not only is this competition helping to develop our young talent but it's also playing a greater role in shaping the future of the industry," says Hawkins.
The first regional competition kicks off on Wednesday 10 June and the entrants will have two hours to turn a beef rump, pork loin and a size 20 chicken into a display of value-added cuts, similar to what you would expect from a high-end butchers' shop window.
The butchers will be judged on their practical skills during the cutting test, communication ability in an interview and their knowledge of the trade in an exam. The top Alto Young Butcher and Competenz Butcher Apprentice from each of the five regionals will then move onto the Grand Final where finalists will compete for the prize of an international butchery study tour.
This year's Grand Final promises to be the biggest event the industry has ever seen with the inclusion of the third annual Tri-Nations Butchers' Challenge, where our national butchery team – The Pure South Sharp Blacks, will defend their two-time title against the United Kingdom and Australia.
The Alto Young Butcher and Competenz Butcher Apprentice of the Year Grand Final is staged in Auckland as part of a black tie dinner which is a highlight on the industry calendar, but in the lead up the regional competitions will be:
Central Districts/Lower North Island
Date: Wednesday 10 June
Location: New World Pioneer Butchery Department, 179-197 Main Street, Palmerston North 
Lower South Island
Date: Wednesday 17 June
Location: Centre City New World Butchery Department, 133 Great King St, Dunedin
Upper South Island
Date: Saturday 20 June
Location: Christchurch Institute of Technology (CPIT), School of Food and Hospitality, Cnr Ferry Rd & Madras Streets, Christchurch 
Waikato
Date: Wednesday 1 July
Location: New World Te Rapa Butchery Department, 751 Te Rapa Road, Te Rapa, Hamilton
Upper North Island
Date: Saturday 4 July
Location: Wilson Hellaby, 21 Industry Road, Penrose, Auckland