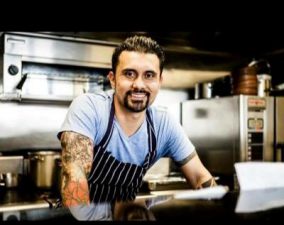 Three young chefs have made the cut to work with their idols in the 2017 Ōra King Next Generation mentoring programme. The three chefs, in the early stages of their careers, will each spend up to a week working in the kitchens of their experienced mentors.
In its second year, The Ōra King Next Generation mentoring programme (NextGen) aims to nurture future stars of the culinary world. The industry initiative offers young chefs a rare opportunity to capitalise on the skills and experience of some of the country's most prolific chefs. Announced in February this year, the three mentors in the 2017 NextGen programme are Michael Meredith of Merediths, Marc Soper of Wharekauhau Country Estate and Darren Wright of Chillingworth Road.
A panel of Ōra King judges selected the mentees based on their previous culinary experiences and drive to develop their skills. Applications closed on 12 March and involved chefs submitting a short video on why they wanted to work with the mentors. Ōra King has also expanded the offer into Australia this year, where the programme will run in the same way.
"We are very proud to announce the three aspiring chefs and offer them the opportunity to work alongside NextGen mentor chefs Darren, Marc and Michael. The mentors will give our younger talent an insight into the industry and provide opportunities to harness their skillset and fuel their ambition. The skills they will learn will be invaluable to their future as chefs and within their current roles," says Jemma McCowan, New Zealand King Salmon Marketing General Manager.
The three successful young chefs are:
Adrian Gerard Sorano, 22, demi chef/commis chef at Peppers on the Point, Rotorua, who will be working with Michael Meredith at Merediths in Auckland
Ryan Prouting, 20, chef at Chillingworth Road in Christchurch, who will be mentored by Marc Soper, executive chef of Wharekauhau Country Estate in Wairarapa
Peita Cherry Fleming, 24, commis chef at Dunedin's Parcels Restaurant, will join Darren Wright at Chillingworth Road in Christchurch.
There are two components to the programme:
The young chefs will each take part in a one-week placement at their mentor's restaurant
With support from their mentors, they will showcase their new skills at an exclusive industry event to be held at Merediths in June.
Adrian will travel to Auckland during 5-12 May for his tutelage under acclaimed creative chef Michael Meredith, owner of award-winning degustation restaurant, Merediths. Michael is also involved in the social enterprise Eat My Lunch, an online business with a 'buy one, give one' model. "Michael Meredith is one of the many chefs I look up to. His food is simply amazing and he also has knowledge on running a very good restaurant which I would like to learn," Adrian says.
Ryan Prouting will join Marc Soper, executive chef of Wharekauhau Country Estate in Wairarapa between 7-13 May. Anticipating his experience at Wharekauhau, Ryan says; "Marc Soper is someone being talked about a lot lately. He has been a winning chef in the capital for two years in a row and his career has led him to partake in many competitions. I aspire to enter competitions in my future career and working with Marc would be a great way to help me reach my goals."
Ryan's employer, co-owner and head chef Darren Wright of Chillingworth Road, will mentor Peita in his kitchen 9-14 May. "This is a once in a lifetime opportunity for my career and I am very excited to work alongside such an experienced chef like Darren. My long-term goal is to promote New Zealand food in new and innovative ways and to share my passions with the world," Peita says.
Darren says he is excited about having his restaurant represented in both the mentor and mentee roles: "It is an excellent opportunity to showcase Chillingworth Road and we are very lucky to have Ryan involved in the programme, too. I believe the skills he will learn will be invaluable to his growth as a chef and to his role at Chillingworth Road."
"We are very proud to announce the three aspiring chefs and offer them the opportunity to work alongside NextGen mentor chefs Darren, Marc and Michael. The mentors will give our younger talent an insight into the industry and provide opportunities to harness their skillset and fuel their ambition. The skills they will learn will be invaluable to their future as chefs and within their current roles."