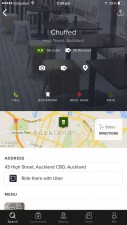 Zomato, the global restaurant search and discovery app, and Uber, the smartphone app that connects riders with drivers for on-demand transportation, have announced a partnership that will help both products bring more to their users across the globe. This partnership has been rolled out to Zomato users in 27 cities across 13 countries; namely – India, Australia, Canada, the United Kingdom, South Africa, Indonesia, New Zealand, The Philippines, Portugal, Qatar, Turkey, UAE, and the United States.
Zomato will bring the seamless Uber experience to the Zomato app, enabling users to book cabs to the restaurant they are planning to eat at. The feature has already been made available to Zomato users in London and South Africa.
Pankaj Chaddah, Co-Founder and COO of Zomato, said, "We're constantly looking for ways to make every meal, for everyone, a great experience. This partnership makes eating out more convenient with the Zomato app connecting to Uber services seamlessly."
Eric Alexander, Head of Business, Asia – Uber, said, "We are delighted to be expanding the scope of our partnership with Zomato. Across six continents, Uber allows riders to connect with their cities in new ways. Through this API integration, Zomato users in 13 countries will now be able to reach those hidden gems in their cities seamlessly and in style."
Zomato's partnership with Uber makes getting to restaurants easy. Once a user has found a place to dine at or have drinks at using the Zomato app, a single tap on the Uber button on the restaurant page will allow one to find the nearest Uber. In addition to seeing the estimated fare and how long it will take for the Uber to arrive, one will also be able to choose the Uber service that best suits one's need.