12 Ōra King frontrunners for best dish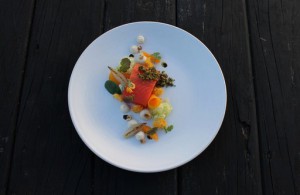 It's a tough job – but someone has to judge the country's best Ōra King salmon dish. For the next seven weeks food industry experts Lauraine Jacobs and Anna King Shahab are going to be dining out on New Zealand's premium salmon – prepared by 14 of the country's most noted chefs.
As expert judges, their task is to narrow down to four the 14 front-runners in the Best Dish NZ category of the 2015 Ōra King Awards.
Twelve front-runners have been announced today (4 August) for the category but the door remains open to two wildcard chefs who need to have their entries in by the end of August.
Of the dozen finalists announced so far, four are from the Wellington area and two from Auckland with chefs from Christchurch, Blenheim, Nelson, Waiheke Island, Wairarapa and Banks Peninsula completing the field.
The Ōra King Awards (The Ōra's) recognise outstanding contributions from chefs working with Ōra King – New Zealand King Salmon's premium foodservice brand produced exclusively for fine dining restaurants in New Zealand and overseas.
Nominations for the best dish awards are made by chefs throughout the country and the final judging is handed over to industry experts. The Ōra King ambassador awards for NZ and offshore chefs are decided solely by Ōra King's global team.
Preliminary judging of the front runners gets underway this month and the four finalists are announced on Monday 21 September. The winners of all Ōra King categories are announced at the awards ceremony in Marlborough (20 October).
The 12 shortlisted chefs who have been selected so far for the judging phase of the 2015 Ōra King Best Dish NZ category are:
Andrew Brown – Dragon's Den Social Lounge, Christchurch – Ōra King Jp2 – a Japanese Inspired Taste Plate
Bradley Hornby – Gibbs on Godfrey, Blenheim –  Ōra King, Parsnip Puree, Black Garlic, Hazelnut, Mandarin.
Chetan Pangam – 1800Restaurant, Millennium Hotel, Wellington – Vadouvan confit Ōra King Salmon, Ōra King Belly Baingan Pakora, Cauliflower textures, Curry Leaves, Vadouvan Air Popcorn, Smoked Yoghurt, Ōra King Caviar & Crackling.
Jason Innes – Mahana Estates Cellar Door, Nelson – Vine Smoked Ōra King Salmon, Braised Lentils & Leek, Sauce Genevoise.
Jinu Abraham – The Heritage Hotel, Auckland – Pan fried Ōra King Salmon, Sweet Pea Mousse, Raspberry Vinaigrette Pearls, Wakame Flakes and Truffle Crisp.
Laurent Loudeac – Hippopotamus Restaurant, Museum Hotel, Wellington – The Ōra King Experience.
Maclean Fraser – Artisan Restaurant, Bolton Hotel, Wellington – Vodka Cured Ōra King.
Marc Soper – Wharekauhau Country Estate, Wairarapa – Horseradish crusted Ōra King Salmon, Smoked Salmon Cannelloni, Kumara and Mandarin Puree, Ocean Beach Wild Fennel Custard, Vadouvan Spiced Granola, Pickled Vegetables, Lemongrass and Saffron Crème.
Matthias Schmitt – Mudbrick Vineyard & Restaurant, Waiheke Island – Miso Crusted Ōra King Salmon, Mango Mustard, Dashi, Sesame Dauphine, Wong Bok, Wild Rice.
Paul Jobin – Annandale, Banks Peninsula, Canterbury – Ōra King Salmon, Dashi Custard, Kelp Potatoes, Cucumber Jelly, Warm Seafood Vinaigrette, Ōra King Katsuobushi.
Shaun Clouston – Logan Brown, Wellington – Ōra King, Green Apple, Yuzu Marmalade, Wasabi, Wood Sorrel, Salmon Biltong & Crackling.
Thomas Barta – Harbourside Ocean Bar & Grill, Auckland – Flavours of the Sea.
The judges' task is not complete until each of the four finalists' dishes are re-judged to find the supreme award winner.
Lauraine Jacobs says while dining is a very pleasant occupation, the task of judging brings great responsibility as this competition has far-reaching effects in the industry.
"We have set criteria we mark each dish on – presentation, taste, creativity, technique and balance and happily the x-factor," Ms Jacobs says.
"After three years, the Ōra King Awards have definitely carved out a strong following and created some great competition among food professionals.  Anna and I expect the judging to be very complex."
In 2014 Kiwi ex-pat chef Matt Lambert from New York's The Musket Room picked up the Best International Ambassador Award for Ōra King salmon for the second year running. Vincent Pouessel, who is executive chef at Aureole in Las Vegas, took the award for the Best International Ōra King Dish.
.