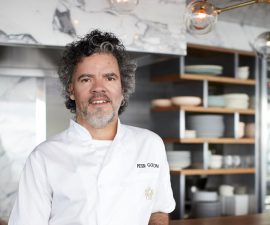 Thirteen esteemed international chefs from as far afield as Argentina and Bali will join forces this October to lend their culinary skills to a world-class fine dining event to raise funds for Leukaemia & Blood Cancer New Zealand (LBC).
Called SKYCITY Dining for a Difference, the event is the brainchild of internationally celebrated Kiwi chef Gordon, and has raised more than $1 million since its inception in 2007. LBC helps support patients and families with blood cancers – leukaemia, lymphoma, myeloma and related conditions.
Held on October 8, this year's exclusive event will see 13 of the world's top chefs (6 international, including Peter Gordon) produce a four-course menu with matching wines to provide a distinctive dining experience for a group of 300 lucky New Zealanders.
Guests find out on the night – through a draw – which chef will be cooking for them, and there is also a small, exclusive auction being held during the evening. Last year's prizes included the opportunity to have Gordon cooking a special dinner at home for the winner, and a trip to London to dine at his restaurants.
This year, chefs from across both sides of the Tasman, and from as far as Bali and Argentina are generously donating their time to each produce a menu to be paired with wine.  Pablo del Rio from Siete Cocinas de Argentina in Mendoza will be producing his unique brand of Argentinian cuisine, while Kiwi chef Dwayne Cheer will be returning home from working at Potato Head in Bali for the event. Top Australian chefs including Analiese Gregory from Bar Brosé in Sydney, David Moyle from Peppermint Bay and Franklin in Hobart and Colin Barker from The Boathouse on Blackwattle Bay, Sydney are also on board.
"I am thrilled to have so many talented chefs coming together in one kitchen, who so generously give their time with one main goal in mind – to help fight blood cancer," says Peter Gordon.
Peter has a close connection with the cause. In March 1995 his sister Tracey was diagnosed with acute myeloid leukaemia and he donated bone marrow to save her life. The transplant was successful and Tracey today leads a healthy life.
Chief Executive Officer of Leukaemia Blood Cancer New Zealand, Pru Etcheverry says SKYCITY Dining for a Difference is a special event for Leukaemia & Blood Cancer New Zealand and is a really unique way for guests to experience an exquisite dining experience created by some of the world's top chefs.
"The generosity of Peter Gordon and these internationally celebrated chefs who donate their time, and of course the support of our sponsors is absolutely outstanding," says Etcheverry.
Chefs participating in SKYCITY Dining for a Difference this year include:
PETER GORDON / The Providores and Tapa Room, London & The Sugar Club, Auckland
AINSLEY ROSE THOMPSON / Sherwood, Queenstown
ANALIESE GREGORY / Bar Brosé, Sydney
COLIN BARKER / The Boathouse on Blackwattle Bay, Sydney
DALE GARTLAND / Kauri Cliffs, Northland
DAVID MOYLE / Peppermint Bay and Franklin, Hobart
DWAYNE CHEER / Potato Head, Bali
ERNEST PIETX / Bellota, Auckland
MICHAEL MEREDITH / Merediths, Auckland
NICK HONEYMAN / Paris Butter, Auckland
PABLO DEL RIO / Siete Cocinas de Argentina, Mendoza
TOM HISHON & JOSH HELM / Orphans Kitchen, Auckland
VAUGHAN MABEE / Amisfield, Queenstown
For tickets and further details contact annabel@leukaemia.org.nz