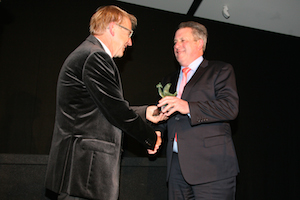 In front of industry peers recently, the Restaurant Association of New Zealand celebrated two of its best and brightest as Christchurch's Michael Turner was inducted to the Association's Hall of Fame and New Plymouth restaurateur Barbara Olsen-Henderson was named as the industry's inaugural Good Neighbour.
Marisa Bidois, chief executive of the Restaurant Association says that both Turner and Olsen-Henderson have made exceptional contributions to the hospitality sector. "Both are full of heart and have given selflessly; in Michael's case to supporting Canterbury restaurant and café owners in the devastating aftermath of the earthquakes and in Barbara's case over a long period of time, fundraising and donating to causes in her local community.
"We are extremely proud to honour Michael as a deserving member of the Hall of Fame, and equally delighted, in conjunction with sponsor American Express, to recognise Barbara as our Good Neighbour."
Inductees into the Association's Hall of Fame have made an extensive and ongoing commitment to New Zealand's hospitality industry. The Hall of Fame award has been previously conferred on industry greats such as Simon Gault, Michael Van de Elzen, Steve Logan, Judith Tabron, Des Britten, Tony Astle and Ruth Pretty, and is voted on by members of the Association's Education Trust.
Bidois says that Michael Turner, owner of Café Valentino has been a major contributor to the restaurant scene in Christchurch for nearly 25 years. "Not only is Michael a great operator, he is also a role model for our industry. He has run a very successful business over decades, but his leadership and support for the industry during the earthquakes period, when he had more than enough on his own plate to deal with, is nothing short of heroic.
"As Canterbury Branch President and National Vice President for our Association, he has helped to increase member numbers and been a mentor, sounding board and friend when people really needed help."
Doing Good in the 'Hood
New Plymouth's Barbara Olsen-Henderson, co-owner of Bach on Breakwater Café is the Association's Good Neighbour for 2014, a new award sponsored by American Express, who selected the winner from a shortlist of three worthy finalists.
Bidois says that Olsen-Henderson and her business support many local schools and community organisations. In particular they are long time fundraisers for the local Hospice and Women's Refuge, including monthly donations and a major fund raising event each year for each organisation.
"Barbara and her team's backing of the community is outstanding. From donating money to fundraising events, and giving of that most precious commodity, time, Barbara and Bach on Breakwater truly embody what it means to be a good neighbour.
"The ways that the New Plymouth community are assisted show real insight and innovation. From teaching kids how to cook, to helping young people succeed to and become valuable members of the workforce, there's almost nothing that Barbara won't do to help her hometown. Olsen-Henderson and Bach on Breakwater Café will receive a $3,000 grant to further their community initiatives.