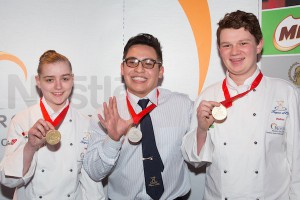 Wellington Institute of Technology (WelTec) students Ryan Bloomfield, Maxine Scheckter and Nicolas Abril have proven that when the 'heat is on in the kitchen' it is no barrier to success, after they won gold and silver medals plus an Innovation Award at the prestigious 2014 Nestlé Toque d'Or competition.
Culinary students Ryan and Maxine went head-to-head with hospitality students from around the country to win their gold medals at yesterday's event (18 August) which was held in Auckland.  Restaurant service student Nicholas who also formed part of the competing team, picked up a silver medal.
Ryan and Maxine battled it out for over three hours against 11 other teams from around the country to create their medal winning three course menu which was served to guests by Nicolas. Throughout the live kitchen cook off, the pressure was intense as the team fought against the clock and under the ever present gaze of a team of industry judges. Any slip up by the team would be duly noted by the judges and marked as lost points.
Teams were marked against World Chefs Societies International Judging Standards which include food preparation, presentation, taste and service.
The panel of 19 judges was led by high profile chef and leading culinary figure Paul Jobin. Making up the judging panel were top hospitality industry personalities including: Geoff Scott who is the chef and owner of Vinnies by Geoff Scott; and Jeremy Schmid – former owner and head chef of the multiple award-winning Two Fifteen Bar and Bistro in Auckland.
A special Innovation Award sponsored by Moffat was presented to the WelTec team for demonstrating innovative use of Nestlé Professional products across their menu.
Event organiser and New Zealand Chefs Association Ambassador Anita Sarginson, said Nestlé Toque d'Or is an exciting and fast-paced event to be involved in.
"It challenges competitors to achieve great things under tight time constraints and while they are being watched by judges and members of the public," Anita said.
"Because there is no room for error, teams must be in top form on the day."
Anita said the event provides a great opportunity for young up-and-coming students to showcase their abilities and demonstrate their skills in front of some of the country's most highly-regarded culinary professionals.
This year was the 24th anniversary of Nestlé Toque d'Or which is New Zealand's longest running and most prestigious student cookery and food service event. It is also held in 17 other countries around the world and has launched the careers of world-famous chefs including Jamie Oliver.  The event is designed to simulate the pressure of a real working team environment.
Sponsors of this year's event are: Nestlé Professional, Beef + Lamb New Zealand, vegetables.co.nz, Akaroa Salmon, House of Knives and Moffat.