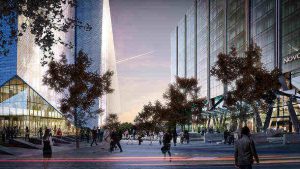 AccorHotels' Pullman brand has been selected by Auckland Airport and Tainui Group Holdings for a new five-star hotel to be developed adjacent to Auckland Airport's international terminal.
The new 250-room Pullman Auckland Airport will be located next to the group's Novotel hotel, and nearby to AccorHotels' ibis Budget hotel, providing travellers to Auckland with a complete range of high-quality accommodation choices from premium to economy.
Construction of the hotel is expected to start by the end of this year, with the hotel scheduled to open by late 2019. The launch of 5-star accommodation will complement a major upgrading programme at the airport, which will see the international terminal expanded to add a domestic wing to provide a totally streamlined service for travellers.
The hotel will be developed by AccorHotels' established partners, Auckland Airport and Tainui Group Holdings, who also developed the pioneering Novotel Auckland Airport. AccorHotels also manages Tainui's Novotel and ibis hotels in Hamilton.
The development of the Pullman hotel comes at a time of unprecedented demand for hotel accommodation in Auckland, with the city being the major gateway for international arrivals. In the 2016 year, Auckland Airport recorded 9.3 million international passengers, a 10.4 per cent increase on 2015, fuelled by new services and growth in capacity on flights from the United States, the Middle East, Japan, China, Thailand and Australia.
The announcement of the Pullman hotel for Auckland Airport follows the opening last year of Pullman Sydney Airport, with another Pullman scheduled to open at Brisbane Airport later this year. Pullman hotels have a strong presence at airports across the world, being represented in airport precincts in cities such as Paris, Moscow, Miami and Guangzhou.
AccorHotels, with a current network of 33 hotels in New Zealand is set to grow substantially over the next three years, including the openings of a new So Sofitel in Auckland and a Novotel at Christchurch Airport.
AccorHotels' Pacific Chief Operating Officer, Simon McGrath, said that the development of the Pullman would contribute significantly to the continued evolution of Auckland Airport as one of Asia Pacific's most important aviation and transport hubs.
"Auckland Airport has done a remarkable job transforming the precinct into a modern 'aerocity' and we are very pleased to be partnering with them, along with our established partners Tainui, in developing the new Pullman," said McGrath.
"The success of the Novotel in attracting corporate, conference and leisure travellers has highlighted the potential for a five-star branded hotel at the airport, and with Pullman having such a strong presence in downtown Auckland, as well as in other major cities around the region, it will be a natural fit for the expansion of Auckland Airport's tourism infrastructure.