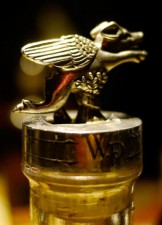 Operating from a picturesque working farm in Vermont, WhistlePig distillery has launched its rarest premium rye whiskey of the year. WhistlePig "The Boss Hog: Spirit of Mortimer" is a top-shelf 100 percent rye whiskey which is bottled at full barrel strength (around 58% to 62% ABV). "Mortimer" is the brand's much-anticipated follow-up to last year's Double Gold Medal winner at the prestigious San Francisco World Spirits Competition.
Dedicated to WhistlePig's dearly departed mascot, a Kune Kune heritage-breed pig named Mortimer, each bottle of The Boss Hog: Spirit of Mortimer is sealed with a custom, hand-crafted Danforth Pewter top, depicting its winged namesake in flight.
"The [original] Boss Hog was a huge success for us last year," said WhistlePig Founder and CEO Raj Bhakta. "We didn't want to simply reissue that edition for 2014, so we seized the opportunity to pay tribute to our beloved Mortimer in the most fitting way possible – by debuting our richest offering yet."
Only WhistlePig's finest barrels were eligible for The Boss Hog: Spirit of Mortimer. Aged nearly 14 years, 50 barrels were hand-selected by Master Distiller Dave Pickerell to comprise the exclusive release.
With the opening of their single-estate farm distillery in the summer of 2015, WhistlePig Farm will become the first ever single malt, one-stop rye shop, with all stages of the process located on site – from growing the grass, to distillation, to barreling and aging, to bottling.
"The Boss Hog: Spirit of Mortimer" carries a suggested retail price of NZ$250 for 750ml.