The $2,500 bottle of tequila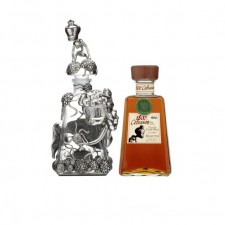 1800 Tequila's newest offering is Coleccion, a long aged, limited edition tequila coupled with a unique decanter sculpted by an international artist. The price is around NZ$2,550 for a 750ml bottle but it is unlikely to be an issue for most as only 40 bottles of the handcrafted tequila were created.
Forbes reports that Coleccion was made "using the same methods that create the 1800 Tequila, named after the year it was created. The liquid for 1800 Coleccion is handcrafted in Mexico's esteemed tequila producing region of Jalisco in the town of Tequila."
"Blue agave is harvested upon optimal maturation and is hand selected and steamed cooked in stone ovens for several days. It then goes under double distillation in copper pot stills to create a remarkably smooth liquid. The final step requires aging the tequila in charred French Oak barrels for over three years, giving the spirit its rich, complex character. Each bottle of tequila is carefully filled, hand-numbered and shipped in wooden crates," the report notes.
Los Angeles-based Artist Gary Baseman was commissioned to create the bottle. The design for this bottle is the tragic love story between a Mexican warrior and a magical mermaid. The handmade decanter, which took close to three years to create, exhibits Baseman's artistic philosophy of "the beauty of the bittersweetness of life".
Sadly, the sample bottle of this fine sounding tequila appears to have not yet reached TheShout Headquarters… We promise not to do anything with this beverage which involves salt and lemons.
Source: Forbes – http://www.forbes.com/sites/megykarydes/2015/02/16/1800-tequila-coleccion-2000-luxury-bottle/
.