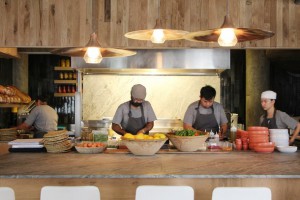 A calm spot where you can enjoy every meal of the day, Oaken opened last week at 130 Quay Street, Britomart.
Serving from 7am until late, six days a week, it's a place where Aucklanders can drop in at any time and expect to be met with good food and great drinks.
To begin, breakfast centres around 10 imaginative egg dishes along with seasonal fruits, cereals and lassi yoghurt drinks and is served until noon. An espresso free-house, coffee comes from three New Zealand favourites: Eighthirty, Allpress and Peoples, so wherever your brand love lies, you'll be delivered the perfect cup.
Taking over from 12pm, lunch is quick and delicious with dishes reaching from the $10 Oaken toasted jaffle stuffed with wild venison, smoked mozzarella and orange to the $20 chargrilled rump.
As day sidles into night the impeccable wine list takes focus and Oaken becomes a delicious place to drink. An all-encompassing range from internationally acclaimed blends to local standouts, bottles are only ordered in small quantities to guarantee a constantly changing selection.
Bar staff are also on hand to guide guests through the curated list of craft beers and cocktails if they are more inclined to a stout than a Sauvignon. To accentuate the wines, Executive Chef Javier Carmona has created a collection of 12 considered small plates. Drawing on artisan suppliers, top quality ingredients and carefully sourced produce, everything that leaves the kitchen has a purpose and in the evening that is purely to make whatever you are drinking, better.
With nothing on the morning, midday or evening menus priced above $20, Oaken is both inviting and accessible, a rarity in the CBD.