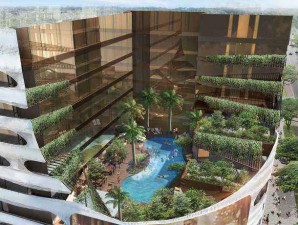 Following a strategic transformation, the newest and first Ibis Styles hotel in Singapore will bring fun, fresh and funky accommodation to the MacPherson District, and is the only globally renowned hotel brand in the area.
The opening of the new hotel will enliven the MacPherson district with 298 vibrantly decorated guest rooms and a distinctive façade which showcases the hotel's elevated pool garden, evoking a tropical resort vibe to the design-led hotel.
Strategically located at the crossroads of MacPherson and Aljunied road, the hotel is part of a mixed use development and sits atop Macpherson Mall, with rooms occupying levels 4 to 9. The mall is set to open in June 2016 with a myriad of shops and food and beverage options, offering guests an added measure of convenience and amenities.
Room rates start from $138++ per night, including buffet breakfast and internet access, presenting exceptional value for business and leisure travellers. The all-inclusive rates are a worldwide promise of the exuberant Ibis Styles brand, which has over 210 uniquely designed hotels managed by AccorHotels. The hotel is currently accepting bookings and will welcome its first guests in April 2016.
The development is owned by LVND Investments Pte Ltd, a consortium comprising Lian Huat Group, Nobel Design Holdings, Expand Group and Steel Industries. It acquired the site in June 2013, and carried out extensive works to completely transform the building's interiors and exterior, adding in more guest rooms, a 25m swimming pool and a fully equipped gymnasium.
Mr. Patrick Kho, Group Managing Director of Lian Huat Group, says, "Ibis Styles Singapore on MacPherson is a landmark development for the area and is a much-anticipated boon to the business and residential community, who now have a modern and stylish place to accommodate their visiting colleagues."
Ibis Styles Singapore on MacPherson will offer a wide range of room types to suit travellers' varied needs, with brightly decorated accommodation across five different categories, including Triple Rooms, as well as Family Rooms which come equipped with a kitchenette.
Rooms range from 18sqm to 20sqm in size, each featuring custom-built furniture and fittings tailored to the multifarious layouts found throughout the reengineered hotel, marrying style and comfort at exceptional value.
Bold shapes and bright pops of crimson, orange and canary engage the senses, imbuing the space with personality typical of the Ibis Styles brand. Guests can enjoy a rejuvenating rest on its plush bedding, amidst serene views of the MacPherson estate or the hotel's poolside.
The pool garden on level four offers guests a relaxing retreat where they can take a dip in the hotel's 25m swimming pool nestled within a tropical haven of palm trees, in a resort setting with verdant views of the MacPherson estate. Guests can enjoy breakfast in the air-conditioned lounge or by the poolside chill out area.
General Manager, Shamila Rolfe, says, "We look forward to welcoming our inaugural guests and extending our fun and funky brand of Ibis Styles hospitality. We also invite local visitors to discover Ibis Styles Singapore on MacPherson during our open house from April onwards; there's something for everyone, so come on down and have a look."