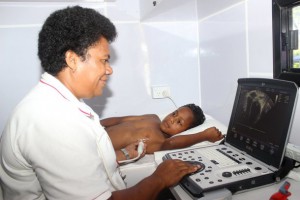 The fundraising partnership between New Zealand's largest hotel operator, AccorHotels and charity Cure Kids, has resulted in the opening of the Fiji Island's first mobile clinic dedicated to screening children for Rheumatic Heart Disease (RHD). The mobile clinic was officially launched last week by Fiji's Ministry of Health and Medical Services Minister, Mr Jone Usamate at Sofitel Fiji Resort & Spa.
The clinic, which has been custom built for undertaking echocardiograms (echo) of the heart for children in the community, will enable a specialist medical officer to detect cases of RHD, and in some cases before there are symptoms. Patients already diagnosed with RHD will also use the facility.
On the day of the launch, over 70 children including children of AccorHotels staff were screened resulting in one new case of RHD detected and another possible case to be reviewed further. Arrangements are being made to ensure children with RHD receive penicillin injections on an ongoing basis to prevent progression of the condition. 
Over a ten year period, AccorHotels have raised over $2million for Cure Kids-led child health initiatives in Fiji. Most of these funds have been raised by teams of AccorHotels staff from across Fiji, Australia and New Zealand competing in the bi-annual AccorHotels 'Race to Survive for Cure Kids Fiji'. In 2014, the event raised over $600,000 for Cure Kids to help fund the Fiji RHD Program. The 10 year anniversary 'Race to Survive' event will be held in November 2016.  
Cure Kids CEO, Frances Benge commended AccorHotels' ongoing commitment to raising funds and giving back to the people of Fiji. "AccorHotels have been the driving force behind Cure Kids in Fiji for almost a decade and their tireless efforts to raise funds and work with us and our partners to improve health outcomes for children in Fiji is quite remarkable. 
"We are delighted that this mobile clinic – which wouldn't be possible without their support – can be launched with AccorHotels and the staff who have helped fund it, can experience the significance of what their efforts have enabled." 
Senior Vice President Operations New Zealand, Fiji & French Polynesia, Chris Sedgwick, said "It is incredibly heartening and rewarding for our hotel teams to see the fruition of their fundraising efforts with the launch of Fiji's first Rheumatic Heart Disease mobile clinic. AccorHotels is extremely proud of our partnership with Cure Kids and it's great to see a tangible outcome in the mobile clinic that will directly help save the lives of children living in Fiji. 
"Our hotel teams are already preparing for our 10th anniversary fundraising event Race to Survive Cure Kids Fiji, which is expected to be our biggest success yet and exceed the $600,000 raised in 2014. We look forward to raising vital funds for Cure Kids this year to enable more children in the Fijian Islands to have access to important life-saving equipment and health facilities." 
In 2015 the Fijian Island's Ministry of Health and Medical Services launched a four-year co-funding partnership with child health charity Cure Kids and The New Zealand Partnerships for International Development Fund to strengthen Rheumatic Heart Disease (RHD) initiatives with the aim of reducing the impact of rheumatic fever and rheumatic heart disease in Fiji.
At the launch, Minister Usamate noted, "RHD is a common yet preventable heart condition in Fiji. RHD causes significant morbidity, disability and mortality through childhood and into early adulthood. Recent research has shown that while RHD usually first affects children aged 5-15, it is the most common cause of death for men aged in their 30-40s in Fiji, with death rates also high for teenagers.
"This mobile clinic is an example of the significant investment being made in building the capability of the Fiji Islands RHD Control and Prevention Program."
 The mobile clinic will also be used to raise awareness of RHD. The vehicle displays an important message for parents: 'Sore throats can cause heart damage. If your child has a sore throat, tell your nurse or doctor straight away.' Over four days, close to 400 children from local communities are being screened for RHD as part of an ongoing program of work assessing the feasibility of a RHD screening program. 
View the launch: