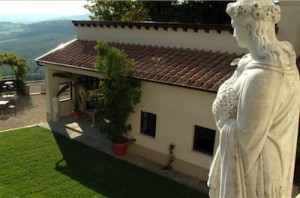 2014 marks the 450th Anniversary of Acqua Panna Natural Still Mineral Water, celebrating a long history of Tuscan excellence, culture, food and wine, and environmental care.
Acqua Panna encompasses the essence of Tuscan lifestyle, heritage and sophistication; rooted in the heart of the Italian culinary, artistic and historical tradition. The estate of Villa Panna boasts an untouched reserve of 1300 hectares surrounding the source. Villa Panna has a remarkable history, dating back to the Renaissance period when the influential Medici Family owned and resided on the estate.
The Medici family was known for their banking prowess, patronage of the arts, political aspirations and their sumptuous entertaining.
Lorenzo de' Medici (known as Lorenzo the Magnificent) revered the smooth and velvety taste of Acqua Panna, sending demijohns of Acqua Panna to his court and the aristocratic society of Florence. His great granddaughter, Catherine de Medici is credited with revitalizing French Cuisine she brought a retinue of chefs, market gardeners and vintners to Paris for her wedding to Henry II of France in 1533.
On July 15, 1564, a declaration was made establishing official property lines of the Medici Estate, intended as a private reserve for farming and game. Since that day, the Estate has remained untouched and protected, and is home to the Acqua Panna spring.
Acqua Panna flows from the Apennine Mountains inside the very heart of Tuscany. The Acqua Panna natural spring is the result of a 10 – 15 year journey deep underground through rock strata, emerging on the slopes of Mt. Gazzaro, 25 km north of Florence. Acqua Panna's perfectly balanced composition is the result of a unique hydro-­‐geological catchment basin that is one of a kind. The estate's pristine environment of woodland, forest and meadow has been designated as a natural reserve for vegetation and wildlife.
Renowned for its smooth, velvety taste, palate cleansing ability and luminescent appearance, Acqua Panna is a special mineral water that enhances the authentic flavours of food and wine. Acqua Panna is the official mineral water of the International Sommeliers Association and is endorsed by many of the world's leading chefs and sommeliers.
"Acqua Panna represents all the power of nature in the heart of the Tuscan Apennines, with 1300 hectares of natural preserve, a unique aquifer, and a long history of culture, passion and love for the Tuscan environment" – says Giorgio Mondovì, Sanpellegrino International Business Unit Director.