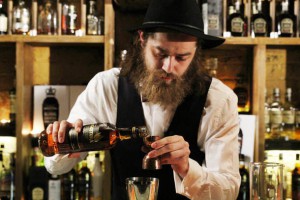 On Carnival Sunday February 7, 2016, twelve of the world's finest bartenders will compete for a grand prize of US$10,000 and the prestigious title of Angostura Global Brand Ambassador in the 8th edition of the Angostura Global Cocktail Challenge!
Each finalist has survived the fierce rivalry of the early rounds of the Challenge, in which 287 participants, drawn from 900 entrants, competed from 36 countries.
Now, in the final round from which only one true champion can emerge, the contestants must make two cocktails in just seven minutes: A "Freestyle Cocktail" which must feature Angostura orange bitters combined with any type of alcohol, and a "Rum Cocktail" made with one or more of Angostura's International rums and Angostura aromatic bitters.
The overall winner will receive the Angostura® Global Cocktail Challenge Trophy and the coveted title of "Angostura 2016 Global Cocktail Challenge (AGCC) Champion," which includes a two-year contract as the Angostura Global Brand Ambassador for Angostura Bitters, Angostura Rums and Angostura di Amaro. Individual trophies will also be awarded for the "Best Rum Cocktail" and the "Best Freestyle Cocktail."
Judging the competition will be a world famous panel led by renowned drinks personality, author and leading mixologist, Jeff "Beach Bum" Berry, who was named one of the "25 Most Influential Cocktail Personalities of the Past Century" by Imbibe magazine. Other members of the panel include celebrated chef Kathy Kasey, who is listed as one of 25 "hot new American Chefs" by Food & Wine magazine; London-based world renowned career bartender, Esther Medina Cuesta; Australia's Michael Tomasic, winner of the Angostura Global Cocktail Challenge 2014, and; Carol Homer, Senior Manager – Quality Assurance, at Angostura Limited. Cocktails will be judged on the taste of the drink, presentation, appearance and aroma.
The 12 finalists include Neal Ramdhan of Trinidad and Tobago, Cameron Attfield of New Zealand, James Irvine of Australia, Daniel Vestman Erikkson of Sweden, Manachain Monaghan of the UK, Seo Yong Won of South Korea, Matheus de Freitas Cunha of Brazil, Jonathan Strokowski Ross of Canada, Nikita Khlopyanov of Russia, Dino Jose Batista of South Africa, Paul Peterson of St. Maarten and Elizabeth Mickiewicz of the USA.
The competition will be held at The House of Angostura in Laventille.