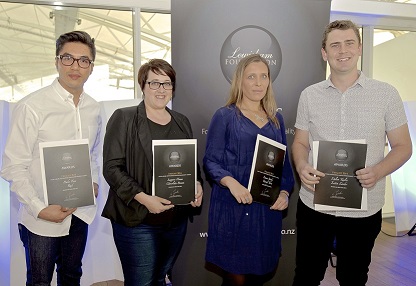 The Auckland hospitality industry has spoken, the votes are in and the finalists for the 2014 Lewisham Awards have been announced. With a record breaking 7,386 votes from their industry peers, the finalists represent the leading lights of the Auckland restaurant scene.
Lewisham Foundation chairman Chris Upton says the number of votes is heartening. "It's an increase of more than 10 per cent over 2013 which I believe shows the industry is really getting behind these awards," says Upton. "In particular it's great to see a mix of older hands and exciting newcomers among the finalists.
"There's no bigger accolade than one awarded by your peers so to be named a finalist is something each of these people can be very proud of. The Auckland hospitality scene is abuzz at the moment; there's a great feeling in the industry and this year's list of finalists is very impressive. I wouldn't like to be picking the winners," says Upton. The award winners are announced on Sunday 1 June at a formal event at Shed 10 where more than 700 guests are expected.
And the 2014 finalists are:
Moet Hennessy Outstanding Hospitality Personality
Ganesh Raj, The Tasting Shed
Jeremy Turner, Cibo
Judith Tabron, Soul Bar & Bistro
Mark Wallbank, The Blue Breeze Inn
Pernod Ricard Outstanding Restaurateur
Mark Wallbank, The Blue Breeze Inn
Melissa Morrow, Ponsonby Road Bistro
Michael Dearth, Baduzzi
Sven Nielson, Molten
Gilmours Outstanding Chef
Ben Bayly, Baduzzi
Che Barrington, Moochowchow
Kate Faye, Cibo
Sid Sahrawat, SIDART
Moana Pacific Seafood Emerging Talent
Elizabeth Birch, Eight.Two
Darren Mynes, Monsoon Poon
Jonathan Lefevre, Ortolana
Menumate Outstanding New Venue
Masu
Baduzzi
Mekong Baby
The Blue Breeze Inn
General Digital Outstanding Maitre d'
Brandon Lela'ulu, Prego
Jenny Kiihfuss, Harbourside
Matt Keegan, Picolli Piatti
Sonya Chan, Molten
Caffe L'affare Outstanding Coffee Establishment / Barista
Twenty Three
Suzanne Hemus, Chocolate Brown
Dylan Taylor, Latin Larder
Duke Tran, Rad
Eurovintage Outstanding Wine List
O'Connell Street Bistro
Clooney
Harbourside
Andiamo
Angostura Outstanding Bartender
Barney Toy, Fukuko
Dan Sullivan, Montage
Oliver Crosbie, Mo's
Phil Mead, The Whiskey
Telecom NZ Outstanding Supplier
Mineral Ltd
Zeal Fresh
Vintners
Neat Meat
Crombie Lockwood Outstanding Waiter
Angie Gunville, Meredith's
Nick Harding, Baduzzi
Patrick Rhodes, Clooney
Yaeko Kato, Eight.Two
Restaurant Association of New Zealand Outstanding Sales Representative
Angie Atkinson, Ohau Wines
Ben Longhurst, Eurovintage
James Barber, Mineral Ltd
Paul Simmons, Manifesto Wines
Beam Bar Legend Outstanding Bar
1885
Lime
The Golden Dawn
Mo's
One Music> Outstanding Establishment
Monsoon Poon
The French Café
Coco's Cantina & Bar
Botswana Butchery
Waterfront Auckland Outstanding Local
Elbow Room
Pinot Plus
Freida Margolis
Stafford Road Wine Bar
Rubbish Direct Outstanding Caterer
The Great Catering Company
Urban Gourmet
Mint Kitchen
Collective
Negociants NZ Outstanding Wine Service Professional
Edmundo Farrera, Andiamo
Gary Olasz, Clooney
John Logan, O'Connell Street Bistro
Piers Haszard, Botswana Butchery
Keep an eye on the Lewisham Awards website and Facebook page for event updates.
http://www.lewishamawards.co.nz/
https://www.facebook.com/LewishamFoundation