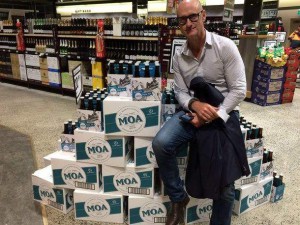 Moa Brewing Co. has doubled the volume of its beer heading into Australia, sending 24 containers (or 622,000 bottles) between April and October this year.  This compares to 11 containers for the same period in 2014, a 107 per cent increase in export growth.
The increase is largely due to a large presence within 200-store strong retailer Dan Murphy's (the destination liquor outpost of supermarket giant Woolworths), where this month the company undertook a promotion with its million plus members sampling the accessible Session Pale Ale ahead of the warmer months. 
Across the Rugby World Cup, Moa also sparked interest in Australia with the release of a cheeky Four More Years dark stout beer made with Guatemalan coffee beans, a nod to Australian rugby player George Gregan's infamous slight after the All Blacks' loss in 2003, which sold out in 3 days.
Woolworths (via Dan Murphy's, BWS and Cellarmasters) has 40 per cent of the Australian liquor market, taking $7.7 billion annually in liquor sales with $3 billion of this said to be attributed to beer (and 5 per cent classified as craft).  Dan Murphy's stocks over 120 craft beers including NZ-based Moa, Monteith's, Stoke, Garage Project and Panhead.
Moa Brewing Co. CEO Geoff Ross believes there is a large opportunity, particularly in Australia, for the craft beer segment to perform in much the same way as sauvignon blanc did for wine exports in the 1990's. 
According to the 2015 New Zealand Winegrowers Annual Report, the New Zealand wine export industry is now worth over $1.42 billion a year with sauvignon blanc accounting for 86.5 per cent of this market share.  Exports to Australia are worth $362.2 million to the economy, representing a 196 per cent increase in the nine years since 2006.
"New Zealand craft beer has potential to see the same success as sauvignon blanc. Our reputation for hops is very strong worldwide with the unique Sauvin Hop (named after Sauvignon Blanc) among others providing a distinct flavour profile that mean our brews have a totally different character to what is seen in mature craft markets like the US.
"Labour and production costs are also favourable plus we have fewer market regulations than Australia and other countries, which means brewers don't lose their margin in freight costs," says Ross.
According to an Australian Craft Beer Market Update for NZTE, wine consumption is catching up with beer in Australia (with mainstream lagers dropping in value by 6.9%), however the craft category continues to grow in value by 12.1% for imported varieties and 24.2% in local craft.
"Australians are increasingly trading up to premium international and craft beer.  Our proximity to this market and the large number of Kiwis who live there mean there is a respect and curiosity for what we are producing."
Outside of Dan Murphy's, Moa has presence within 150 independent stores or bars primarily in the NSW region. Moa plans to further increase its distribution to craft-friendly Queensland and Western Australia within 2016.