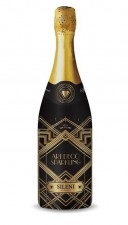 Sileni Estates has brought the glamour of 1930s Art Deco to life with the launch of the limited edition Art Deco Sparkling.
The special bottling celebrates Napier, the Art Deco capital of New Zealand, and the partnership between Sileni Estates and the Art Deco Trust. 
 "We're excited to release this special wine which celebrates our home town. Art Deco Sparkling has lively bubbles, beautifully aromatic stone fruit flavours and nicely balanced acidity," says Sir Graeme Avery, Sileni Estates CEO and President. 
The bottle design has been developed by award-winning London design house, BD Creative, inspired by Napier's Art Deco architecture. "Art Deco Sparkling is redolent of The Great Gatsby glamour, characterised by bold geometries and dramatic flourishes.  It perfectly captures the opulence of the era," says Sally Jackson, General Manager of the Art Deco Trust. 
Art Deco Sparkling is available now via wine retailers, and will be served at the Tremains Art Deco Festival, which runs from 17 – 21 February 2016. 
"Sileni Estates takes its name from the Sileni, companions of Dionysus in classical Greek mythology. Their purpose was to encourage the enjoyment of delicious food, great wine and social interaction. This wine was designed with celebration in mind, we hope that people enjoy it," says Sir Graeme Avery. 
The Art Deco Sparkling has an RRP of $25.00.