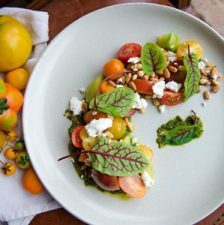 Foodservice operators are realising the value of adding healthy dishes to their menus, but many are absorbing the cost of doing so, a recent study has revealed.
Silver Chef's latest annual Hospitality Industry Success Index (HISI), having surveyed 200 respondents, revealed that 67 percent of small business owners had added 'healthier' menu items to their existing selection in the past year, yet 25 percent were reluctant to pass on the costs associated with these changes for fear of losing customers.
Instead,50 percent of those surveyed admitted to absorbing this loss by working longer hours themselves in a bid to reduce staff wage costs. Other measures included minimising waste, reducing portion sizes and using cheaper products and ingredients where possible.
Project 41 owner, Stefan Blee, agreed with the results, admitting that external costs had rocketed while menu prices stayed the same.
"Meat and produce costs are double the price of what they were 12 years ago – but because the restaurant and café culture is highly competitive, we want to avoid passing on costs to our customers if we can help it," Blee said.
"To ensure we can deliver the fresh, gourmet produce our customers have come to expect, we've had to move costs from other areas of the business to meet demand, and quite often that means I will take on more hours myself rather than paying for additional staff to cover busy periods."
Silver Chef COO, Damien Guivarra, said the annual HISI report provides insight into how the industry is evolving to meet consumer demands.
"It's great to see business owners embracing this shift in health, and we do believe it is paying off – with our research revealing over half of restaurants and cafes performed better than last year in spite of rising produce costs," he said.
By Mitchell Paul