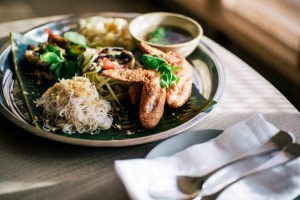 Specialists in authentic Thai cuisine saan have launched a new express lunch menu that will transport taste buds to the North East regions of Thailand.
Inspired by the 'Tum Tard lunch boxes' – a traditional Thai way of serving lunch to the working class, head chef Lek Wichian has designed the Tum Tard lunch menu to showcase the inspiring flavours of the Isaan region in North Eastern Thailand while using top quality, local ingredients.
A light yet satisfying lunch with six components – the menu will change reflecting the freshest ingredients available
on the day and priced at $18, is great value for money.
"One element will be consistent every day," says Lek. "A spicy Som Tum salad of papaya, pickled crab and pickled fish sauce. It is a very famous dish in North Eastern Thailand and a must-have in any Tum Tard."
"I'm looking forward to sharing even more flavours and memories from Thailand with our guests. My Thai traditions and culture are the most important influences when I'm cooking – I feel like my grandmother is watching when I am in the kitchen." says Lek.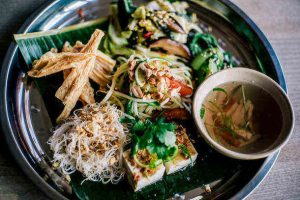 The beautifully presented plates will include a range of authentic dishes such as crispy fish sauce marinated chicken wings, tofu jelly and pickled eggplant.
Lek has also created a vegetarian lunch option – the Tum Tard Jae, which will include flavours of chilled tofu jelly, char grilled or wok seared vegetables, superfine rice noodles and a refreshing clear soup.
"The Tum Tard Jae was originally eaten by monks who were fasting meat for religious or health reasons," says Lek. "We have taken that concept and infused it with interesting flavours and the freshest ingredients, sourced from local producers."
Lek's Tum Tard and Tum Tard Jae are currently available at saan between 12pm and 4pm, Wednesday to Friday, priced at $18, or including a wine match for $26.