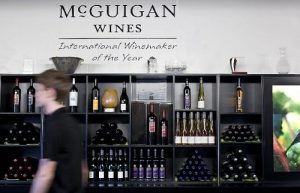 McGuigan Wines has been named International Winemaker of the Year at the 2016 International Wine & Spirits competition (IWSC) in London, an award they have now won four times.
Having won the title in 2009, 2011 and 2012, McGuigan Wines beat out competition from nations including France, Spain, Italy, Germany and the USA to become the first winemaker in the world to receive the award four times.
McGuigan Wines was also awarded the coveted Australian Producer of the Year title for 'Australia's Best Winemaker' and, as a result, became the first winery to win the Australian title four times.
"To be the only winery crowned International Winemaker of the Year four times is extremely humbling," says Chief Winemaker for McGuigan Wines Neil McGuigan. "I am immensely proud of this achievement and what this award means for Australia and McGuigan Wines.
"These awards are as much for the Australian wine industry as they are for us. Every time an Australian wine or producer is acknowledged at an international wine competition, it puts our products on the map and forces people to sit up and take notice. We continue to be incredibly honoured to represent Australia on the world stage," he says.