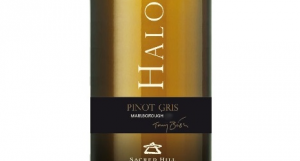 The subtle sophistication and richness of the newly released Sacred Hill HALO 2013 Pinot Gris epitomise the classic traits of this popular varietal.
Sacred Hill Senior Winemaker Tony Bish says the 2013 HALO Pinot Gris sets a new benchmark for this label, thanks to the spectacular quality of the vintage.
"One of our aims with Sacred Hill's HALO wines is to bring premium wines into everyday enjoyment and give people the opportunity to trade up and enjoy a little bit of luxury without breaking the bank. The superb 2013 Marlborough vintage has given us a helping hand with this Pinot Gris," he says.
Bish says the finest examples of Pinot Gris are known for their richness, texture and depth, which are also characters on which the HALO range of wines have built their reputation.
For this wine the near perfect fruit was harvested from Sacred Hill's Waihopai estate vineyard and cool fermented to retain maximum varietal expression. Aging on yeast lees has helped build HALO's trademark texture and depth into the aromatic wine.
Sacred Hill 2013 HALO Marlborough Pinot Gris – Charming aromas of Nashi pear, apricot and Turkish delight complemented by cinnamon and nutmeg. The palate is rich and luxurious with silken texture and a creamy finish.
Food Match: Classic roast pork with stewed pear sauce.
Sacred Hill 2013 HALO Marlborough Pinot Gris is available from Sacred Hill Wine Company and has a recommended retail price of $24.99.
For further information visit www.sacredhillwineco.co.nz.