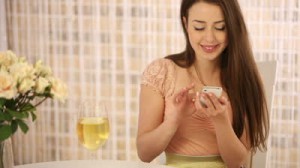 By comparing security footage from 2004 to footage from 2014, a New York City restaurant often panned for slow service discovered why the average length of a meal there had nearly doubled in a decade.  In virtually every case, it was because of customers using their cellphones.
Phone use caused delays at every step – not checking the menu, taking photographs of the menu, trouble connecting to Wi-Fi, taking photos of the food, taking photos of each other with the food, having the wait staff take group photos of them with the food, complaining the food was cold, not requesting the bill and not settling it promptly.
As a result, the average meal time went from one hour and five minutes to five minutes short of two hours – with more customer complaints.
No-one appears to have done a similar exercise for drinking establishments which, although sad. is to be expected because the NYC example was only possible because they found a 2004 videotape in a machine ten years later.  That kind of footage would be long gone in most places.
However, observation and anecdote suggest there are similar issues at bars, pubs and clubs with people checking in, ticking off drinks, taking photos of bottle labels or tap judges, Tweeting, Facebooking and posing with their drinks.  It will be interesting to see if a code of etiquette is either adopted by customers or pushed by the industry.
For more information visit – http://ifyoucantaffordtotip.com/nyc-restaurant-compares-old-surveillance-customers-recent-shocked-results/