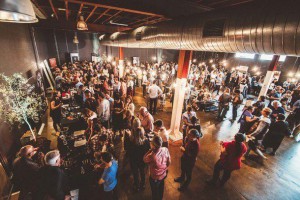 Bottle Shop Concepts have landed in New Zealand once again, bringing with them a programme of spectacularly fun and engaging wine events. Founded by wine commentator and educator Dan Sims, formerly a sommelier at some of Australia's most renowned restaurants, Bottle Shops Concepts will run a series of day-long, fun-first-facts-second wine festivals: Game of Rhones (held in Auckland on July 2 and Wellington on July 9) and flagship event, Pinot Palooza (held in Auckland on September 3). In addition, Bottle Shop Concepts will produce Wine Day Out, an industry-focused event where creative conversations in and around the business of wine will be facilitated at St. Matthews in the City in Auckland on July 1.
"We ran Game of Rhones in Auckland last year and the response was overwhelming," Dan explains. "Apparently you Kiwis love drinking wine and having fun! With that stellar market research done, we're looking forward to New Zealand hosting four of the thirty events Bottle Shop Concepts will produce this year."
First in the consumer programme is Game of Rhones, a combative celebration of the classic grape varieties of the Rhone Valley in France. 30 of the best producers from New Zealand, Australia and France, including Alpha Domus, Te Awa, Paritua, Dry River, Langmeil, Schubert, Vidal, M. Chapoutier, Georges Michel, Villa Maria, Craggy Range, Babich, Trinity Hill, Pask Winery, Giesen, Elephant Hill, Yalumba, Man O' War, d'Arenberg AND MORE, will converge first in Auckland's Shed 10 on July 2 and then The Atrium at Chaffers Dock in Wellington on July 9. Tickets are $60 and include tastings of over 100 wines (with no tokens, guests can enjoy an unlimited amount of pours) and food, beer and cider are also available to purchase. Wines can be bought on the day at cellar door prices and all attendees take home a PLUMM VINTAGE REDa wine glass ($35RRP).
Guests are encouraged to taste their way around the room and cast their vote for the People's Choice award by pitting variety, style, house and region against each other to see who will reign supreme. The legendary blind (folded) tasting 'torture chamber' will again be running, and wine producers are enthusiastically encouraged to dress in theme, as are attendees for that matter.
A new offering, The Royal Pass, is available for purchase this year, giving a limited number of wine-loving VIPs exclusive pre-event access to the wineries between 11am-1pm. The pass also allows access to extra special bottles kept aside by the winemakers just for royalty, a food voucher for any one of the food producers, and 3 wine tastings from the Rhone Bar. ($85)
Bottle Shop Concepts' flagship event, Pinot Palooza, will take place at Shed 10 in Auckland on September 3. Attendees are encouraged to get hip deep in the finest Pinot Noirs produced in the Southern Hemisphere. They'll mix and mingle, and most importantly taste the most enticing, enthralling, sexy, silky, suave and sophisticated grape variety on the planet; Pinot Noir.