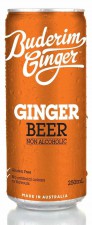 As fine purveyors of all things ginger, Buderim Ginger recently unveiled a new look 250ml slimline can boutique beer.  Crafted like no other, the non-alcoholic Buderim Ginger Beer is made with only the freshest real Australian ginger and no artificial colours or flavours. A tastebud 'burst' promises to take consumers away from everyday drudgery to where flavour is its own reward.
The product launch is supported by a major digital and PR campaign as part of the Australian icon's recent rebrand. The 'GingerNet', an online portal to celebrate all things 'ranga' is the key focus of the initiative and will feature an array of ginger-gems, from the best ginger cocktails to Buderim's very own ginger dictionary.
Fiery redhead Michael Beveridge hosted an exclusive event in Sydney that showcased the new beer and The GingerNet to influencers, and also acted as the platform to introduce a national competition to find 'Australia's Hottest Ginger'. The brand has also purpose built a colourful Kombi that will sample its new product throughout summer at special events.
To date, Buderim Ginger has only made its beer available for distribution locally on the Sunshine Coast in Queensland in its traditional glass bottle.  However, the product will now be available nationally to distributors. Like all good things from Buderim Ginger, the company's new Ginger Beer is the natural 'enemy of bland'.  The brand has been perfecting its recipe for over a decade, with the final product being shaped by the pickiest of ginger beer connoisseurs.