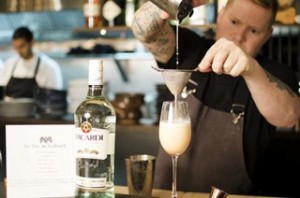 Barney Toy calls himself a bartender, but the innovation he brings to the cocktail craft makes him more of a test pilot. Now he hopes those skills and a cocktail he calls the Pan Am will help to jet him off to the BACARDÍ Legacy competition in Sydney in 2015.
The BACARDÍ Legacy Cocktail Competition is a serious event for talented Mixologists that has quickly established itself as one of the most important cocktail competitions in the world. It is judged by an unrivalled panel of industry experts who are renowned for their distinguished palates and years of bartending experience.
However, BACARDÍ believes that it takes time for a drink to become a true classic, and that's why the competition is done slowly, in stages in all parts of the globe.
Barney Toy is one of three finalists whittled down from a huge number of entries, with a final presentation in Auckland on the 08th December, where Barney will have to not only show how good the Pan Am can taste, but also how well it has been accepted by the rest of the cocktail community.
Then, if he's successful, he'll be winging his way to Sydney for the finals.
And Barney knows what's at stake. A previous winner of the Lewisham Outstanding Barman of the Year, he's put a lot of thought and effort into the Pan Am, getting it onto bar lists in Melbourne, Sydney, New Delhi and seven bars in New Zealand, and known in LA and London.
Barney Toy is looking forward to the final judging, but meanwhile is asking people to show their support on any of the social media channels, or by sharing his youtube clip: