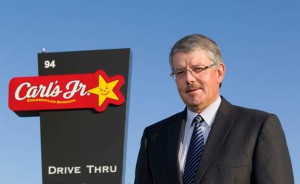 On 5 November, 2014, Restaurant Brands (NZX: RBD), the nation's largest Quick Service Restaurant (QSR) operator, signed a conditional agreement to acquire the seven Carl's Jr. stores in Auckland currently owned and operated by Forsgren NZ Ltd for a total consideration of $10.5 million. The deal will see Restaurant Brands become the sole operator of the premium US burger chain, Carl's Jr., in the New Zealand market, and will bring the total number of Carl's Jr. stores in New Zealand owned by the company to 16.
Restaurant Brands CEO Russel Creedy says the agreement is for a cash purchase of the seven stores by way of an asset acquisition. "Existing Forsgren employees will be offered employment by Restaurant Brands". He added that they "see the acquisition as a strategic opportunity to add critical mass to our Carl's Jr. chain and will use the increased scale to further leverage marketing and supply chain opportunities."
The acquisition is subject to a number of conditions, including approval of CKE Restaurants Holdings, Inc. (CKE), the Carl's Jr. franchisor, and assignment of leases. In addition to the Forsgren acquisition, Restaurant Brands has also signed a Master Licensing Agreement with CKE that allows Restaurant Brands to sublicense Carl's Jr. stores in New Zealand to third party franchisees.
Restaurant Brands will receive a share of royalties and fees in return for the development and ongoing supervision of sublicensed stores.
Carl's Jr., known worldwide as one of the ultimate destination for burger enthusiasts, is expected to become a major player in the New Zealand burger market, with up to 60 stores opening nationwide.