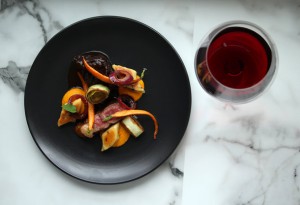 A Taste of Burgundy is the theme of two special dinners being organised by O'Connell Street Bistro at Newmarket's Maison Vauron wine merchants in Newmarket on April 15 and 16. Fans of O'Connell Street Bistro will again be able to enjoy the restaurant's renowned cuisine even though it is still closed following January's fire.
The bistro's full kitchen and front of house team will be on hand to create, serve and deliver an O'Connell Street Bistro experience in the cellar at Maison Vauron. The menu, curated by head chef Mark Southon, comprises six courses including wine matches for $110 per person. Starting with salted cod beignets & rouille each dish has a little element of France, enabling the bistro to showcase its fare alongside perfectly paired wines from Burgundy.
Other dishes include:
* olive oil baked snapper, clam chowder risotto & lemon verbena;
* ballottine of quail, smoked bacon & roasted cauliflower puree;
* braised beef, morel gnocchi, roasted leeks & pinot noir madeira reduction;
* white chocolate & blue cheese, walnut crumb & beetroot granite, and to finish, calvados jellies.
O'Connell Street Bistro owner Chris Upton says Maison Vauron is one of New Zealand's largest specialists in the fine wine and small domains of France.
"We are proud of our long standing relationship with Maison Vauron and we are delighted to be able to offer a taste of our menu together with them. It will be an intimate evening with only 36 seats available on each date."
Wines will be matched by Maison Vauron's Scott Gray and Jean-Christophe Poizat. Poizat says Maison Vauron's cellar is a unique place.
"It is upstairs for a start. It's also quite rustic, warm and very French. It is probably one of the best settings for 'A Taste of Burgundy' prepared and executed by O'Connell Street's magnificent team.
"The Burgundian wines to be served on the night have been especially selected by my business partner Scott, Chris Upton and me to enhance the experience. Alors, vous venez?"
For bookings for A Taste of Burgundy contact Maison Vauron on 09-529 0157.