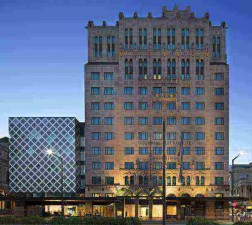 21 properties in three Australian states are now managed by 1834 Hotels – a South Australian owned hotel management group that is making substantial inroads into the local and national hospitality industry.
Having tripled in size in the past 18 months and with a predicted 23 per cent growth in the 2015/16 period from 243,000 to more than 300,000 room nights sold nationally, 1834 Hotels, run by a senior management team comprised of a dynamic group all under 40 looks certain to achieve its goal of firmly entrenching its position within the national hospitality sector.
Within its portfolio, the 1834 Hotels group is responsible for managing and marketing 939 hotel rooms in South Australia making it one of the state's largest hotel operators. A further 108 rooms in the Northern Territory and 144 in Western Australia give them a total of total of 1191 rooms under their guidance.  Approximately 900 staff are employed under their banner by the members of the group making them one of the largest regional tourism employers in South Australia.
Unlike traditional hotel chains however, the name 1834 Hotels is not above the door to any of the properties.  "We are not like traditional hotel chains – all of our properties retain their own identities yet share the same management and back office services.  We provide a link between the properties and the owners who essentially engage us to run a hospitality business for them.  We will hire staff, oversee management and provide a support base for sales and marketing, revenue and operations" said Andrew Bullock, CEO 1834 Hotels.
Formerly branded as Country Club Hotels & Resorts, the name changed to 1834 Hotels* in mid-2013 when recent additions to the group portfolio no longer reflected the diverse range of properties that the group now encompassed. The 1834 Hotels portfolio includes a combination of CBD and regional properties –  comprised of hotels, motels, apartments and resorts, with a range of experiences, to suit domestic, leisure, business and international travellers as well as local residents seeking a function venue or dining experience.
The most prestigious property within the portfolio, the 5-star boutique Mayfair Hotel in Adelaide, became part of the group in mid-2015. This addition also brought into the young management group, Martin Radcliffe as General Manager to both the Mayfair Hotel and Adabco Boutique Hotel. As the former Director of Sales and Marketing for the Adelaide Convention Bureau, as well as having prior hotel management experience, Martin's appointment added a valuable asset to 1834 Hotels with his extensive business networks and intimate knowledge of the business events and conferencing industry.
1834 Hotels CEO, Andrew Bullock said "our goal is to continue to grow our portfolio whilst providing a unique and quality service to our (hotel) owners and stakeholders – our relationship with them is our strength and an integral part of our overall reputation. It is essential to the development and growth of our management company, as well as providing outcomes that are in line with their greater vision for the hotels".