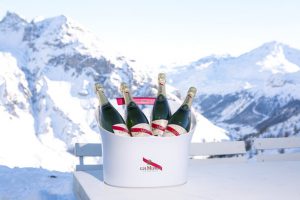 Champagne Mumm is thrilled to announce its sponsorship of The North Face Frontier Freeride World Qualifier Event.  Champagne Mumm will bring its signature celebration to the prestigious freeride competition by bringing Olympic snowboarder Rebecca Torr to the event as the official Mumm spokesperson, and by hosting the official after-party.
The North Face Frontier is New Zealand's only 4 Star World Qualifier ski event, taking place at The Remarkables ski field in Queenstown between 22 August and 27 August 2016.  The event attracts the world's best international and local ski and snowboard competitors and aims to provide a top level freeride competition to help upcoming riders reach their goal of qualifying for the prestigious Freeride World Tour.
The iconic Champagne House, synonymous with adrenaline-fueled events, has flown California-based 2014 Olympic snowboarder Rebecca 'Possum' Torr to New Zealand for the occasion. Possum will share highlights and exclusive coverage from the event and bring spectators closer to the action via the brand's social media channels, including interviews with the competitors themselves.
Once competition wraps up on snow on 27 August, competitors, supporters and snow sports enthusiasts will celebrate in style at the official after-party at Toro Kitchen and Bar in downtown Queenstown, hosted by Champagne Mumm.
Guests will enjoy Mumm Champagne, including a flute from an impressive 6 litre bottle of Mumm Cordon Rouge, champagne cocktails and live entertainment from Auckland based DJ duo Sweet Mix Kids, who have performed at some of the world's most stylish parties and events.
Attendees will also witness 'skibrage', a snow-appropriate version of the art of sabrage – a 200 year old tradition that sees a sabre used to break the neck of the bottle clean away from the base, leaving it ready to pour. Sabrage was a popular part of the traditional serving of Champagne back in the days of Napoleon, and is the ultimate celebration gesture.
"For over 180 years, Champagne Mumm has been an icon of victory and so we're thrilled to be the Official Champagne of The North Face Frontier. Champagne Mumm has become synonymous with moments of celebration and we look forward to bringing our 'Dare Win Celebrate' state of mind to The North Face Frontier after-party. From guests enjoying a flute from the impressive 6 litre Methuselah bottle of Mumm Cordon Rouge, to the innovative ritual of Skibrage, it will be a night to remember," says Sassetta Andrew, New Zealand Brand Manager Champagne Mumm.