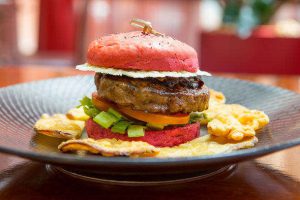 Off the back of an extensive seismic upgrade that saw Sojourn Café and Bar closed for a number of months, the central Wellington café is now back up and running featuring rejuvenated menus, contemporary coffee and a new look.
Rising above the traditional view of a hotel dining space, Sojourn aspires to satisfy the local Wellington market alongside guests at the 268-room James Cook Hotel Grand Chancellor in which the café operates. With pedestrian access from both The Terrace and Lambton Quay, the café is often buzzing with the thoroughfare of locals. The ambience is further enhanced by the soulful sound of live piano, played by Shaun Johnson, Monday – Friday between 5 – 7pm.
Fronted by Head Chef Kiran Padhi, menus at Sojourn focus on fresh, local ingredients, with the latest seasonal adjustments launching at the start of August. Favourites from each menu include Banana and Mango Smoothie Bowls for breakfast, Creamy Kale Risotto for lunch and Wagyu Beef Scotch Fillet for dinner. Gluten Free options are available, along with Tapas and takeaway Energy Smoothies. An assured highlight of the year was curating the Burger and Dine Wellington cuisine for Visa Wellington on a Plate. This year, Sojourn hopes to entice locals with a bright path of pink Up Beet Beef Burger stickers, leading from both Lambton Quay and The Terrace entrance to Sojourn.
Not overlooking the importance of good coffee in Wellington, the Espresso di Manfredi blend is now being served, hailing from Sydney based Italian, Stefano Manfredi. Without skimping on quality, Sojourn Café and Bar presents value, with all coffees and sizes for only $4, including soy and almond milk options.
The launch of the new coffee bean comes with two competitions running simultaneously, directed at Wellington locals. Purchase a coffee throughout August to enter the 'Coffee Lovers' competition or like @SojournCafeWelly on Facebook to go in the draw to win a Caffitaly S21 Capsule Coffee Machine. Rounding out the month of new additions, Heineken on Tap has also been installed, a popular addition with all the rugby matches at Westpac Stadium this winter.