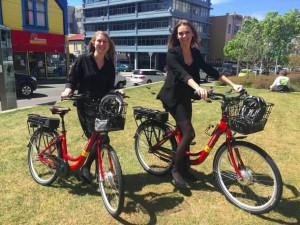 CQ Hotels in Wellington is on a mission to persuade Kiwis and tourists to see the capital with electrifying speed by being the first hotel to offer guests electric bikes and an electric car charging station.
General Manager Olivier Lacoua says the hotel has a strong sustainability focus and wants to set an example by embracing the latest environment friendly transportation technologies widely available.
"We're proud to have taken the lead in providing a fun, unique and green way to explore our capital city. Seeing the city by bike is so much better than other transport as the city, its cool cafes and other attractions become so much more accessible. Bikes open up so many areas which would otherwise be hidden away with other forms of transport," said Mr Lacoua.
The hotel has purchased two Smart motion electrical bikes and is working in conjunction with Wellington based cycle hire start-up Switched on Bikes who run eBike guided tours of Wellington.
"E-bikes are so much fun to ride because they make the difficult bits easy and so riders can just concentrate on where they want to go and what they want to see, and to top it off they have an electric boost which helps cyclists power up Wellington's hills. Not only can you get to where you want to go faster and easier, but you won't sweat, it's easier on those joints and the e-bike can even out the pace for you and your partner."
The e-bikes work by getting their power from being charged up using a standard power lead and plug. They provide power on demand, responding to and complementing pedalling speed and power. If you pedal hard, little battery power will be used, however, the electrical assistance kicks in and provides a welcome little boost. Most e-bikes provide up to 150% of your own power with each pedal stroke.
CQ Hotels is also continuing its quest for sustainability by becoming the first hotel in Wellington to introduce an electric vehicle charging station which supports the Wellington City Council's Electric Vehicle programme.
"Electric cars are the future and running them on renewable electricity makes them close to zero- emission vehicles. We need to be encouraging  uptake of electric cars in Wellington for health, environmental and economic reasons –  that's why we are proud to be the first hotel  to introduce an electric charging station – and only hope more follow in our footsteps!" said Olivier Lacoua.