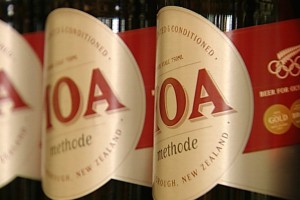 Craft beer sales are continuing to rise despite falling volumes in the wider sector, said Moa chief executive Geoff Ross to the New Zealand Herald.
He said the decline in beer sales volumes was largely through mainstream products not selling as well and preferences shifting towards more premium and craft beers."It's the classic quality versus quantity thing that has already happened with other beverages," Ross said.
"So rather than paying $20 for a 12 pack, people might pay $24 for three bottles of a special reserve range or other ranges, so volume is down overall but spend, particularly in our sector, is up and continuing to be up.
"It's being driven by two things – by the consumer who wants more interesting taste profiles but the other thing driving craft is the retailers who want more margin," he said. "They're not making anything out of a $20 pack of beers, they're making more money out of one bottle of Moa Reserve."
He said increasing numbers of free houses – bars that were not associated exclusively with either Lion or its main competitor DB Breweries – was also a factor, with such bars wanting to offer a wider range of beverages, including more craft beers.
Ross' comments come after Lion Breweries, which has 46 per cent of the liquor market and is owned by Japan's Kirin Holdings, released its full-year sales figures to the Companies Office, showing net profit was down 20 per cent.
Total revenue for the year ending September 30 was also down from $611 million the year before to $564 million this year.
Last month, Lion chief executive Stuart Irvine said Australian and New Zealand consumers were drinking less alcohol overall than at any time in the previous 15 years, a statistic mirrored by government figures showing the total volume of beer available for sale in New Zealand had been falling over the past 30 years.