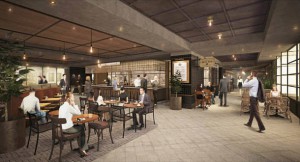 Plans have been unveiled for a new up-market central Auckland single-site dining precinct to rival the likes of the trendy Ponsonby Central, Viaduct, and Britomart precincts.
The 1,700 square metre eatery conglomeration – named Queen's Rise – is to be housed within the newly-redeveloped building at 125 Queen Street, and will be split over two floors. Some 13 tenancies are being offered – ranging in size from 10 square metres through to 125 square metres, with a combined seating capacity for over 500 diners.
Other retail and recreational operations within the building, to be known as 125Q, include a retail outlet, New World 'Metro' supermarket, a corporate gymnasium, and up-market childcare facilities. The 28-storey tower is currently being refurbished – with the first new commercial tenants taking up occupancy at the end of the year.
The retail sites within the split-level Queen's Rise floor space are being leased by Bayleys Real Estate. Leasing broker Leah La Hood said the burgeoning destination reflected an evolution in the city's dining scene – moving up from lower quality ethnic-based eateries into a more urban European style of both food and décor.
Ms La Hood said Queen's Rise, with its heritage façade built in 1867 was a beautiful building with a rich history, and had all the dynamics to create a destination experience – history, architectural design, location and an exciting new concept to take it into the 21st century.
"Queen's Rise is about wonderful hospitality – offering a diverse range of unique eateries and restaurants in a dining environment that is edgy and intriguing. Beautifully restored, the space utilises existing features – with exposed structures and recycled materials to create true authenticity" said Ms La Hood, who was instrumental in sourcing a varied menu of food and beverage tenants for the immensely successful Ponsonby Central hospitality hub.
"The nearest comparison from a décor and offering perspective would be the Ponsonby Central complex, which we don't see as competition as it services the Ponsonby population, while Queen's Rise will be the preferred destination for the lower Queen Street catchment area.
"For the lunchtime trade, the core target market is workers in the commercial premises located between High Street and Albert Street, and from Wyndham Street down to Custom Street West."
The venue has easy access from the Britomart train station and Auckland Harbour's cruise ship terminal, while night-time trade is likely to consist of Auckland residents and tourists.
Ms La Hood said all eateries within the Queen's Rise hospitality precinct would have their own distinct identity in both food offerings and décor. The hybrid dining environment would consist of a majority of the Queen's Rise tenancies having their own seating, with an area of smaller tenancies sharing a communal dining space.
She said the Queen's Rise precinct was based on open-plan kitchen operations with chefs theatrically preparing food in clear view of the dining public. "Flamboyant cooking could feature anything from a Teppanyaki grill through to a Mediterranean rotisserie. Diversity and quality of food offerings will be key to creating a repeat visit destination," she said.
"The 'best of Auckland' will come together through a mix of independent hospitality specialists and dynamic chefs well-known for creating innovative, authentic food and convivial spots to gather with friends and colleagues. The operators will be recognised as some of the best in the industry, providing outstanding food and world-class service." she added.
Ms La Hood said Bayleys had already commenced discussions with several experienced restaurateurs running existing stand-alone eateries in the city with a view to establishing a complimentary presence in the Queen's Rise locality.
"The feedback we are getting is that Queen's Rise would be viewed as an addition to their primary operation, with new concepts designed to deliver food in a much shorter time frame – in line with the convenience requirements of lunchtime customers," she said.
Ms La Hood said that given its location and catchment area, Queen's Rise had the potential to attract more than 10,000 customers per day. Construction of Queen's Rise has already begun, with food and beverage operators scheduled to take up residency immediately upon completion.
High-end Sydney-based interior design company Alexander & Co has been appointed to oversee the interior design of the project. Principal architect Jeremy Bull's current projects include Sean Connolly's new restaurant at Sky City Casino in Adelaide and Fraser Short's new Sydney restaurant, Daniel San.