Craft beer trends for 2015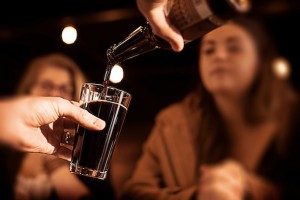 Newly appointed Showcase Hospitality operations manager of craft beer Ben Hartigan is an Irishman who claims to know his brews. He recently published five predictions for the trends in craft beer for 2015. TheShout's resident beer nerd Neil Miller went and met the man in his new venue – 16 TUN – and provided his comments on Hartigan's often bold picks.
Hartigan says one of the strongest drivers of popularity for craft beer is people's evolving and changing palates. "That and the fact there is so much choice; and the tougher drink-drive regulations have also played their part in people spending a little more and taking longer to drink," he maintains.
"This year's trend for big flavours will continue I reckon because Kiwi tastes are slowly maturing," Hartigan says. "Farmhouse ales and sour beers will continue to be popular – they were prominent towards the end of last year. But I'll stick my neck out a bit here and say wheat beers will come in to their own."
He's also a fan of gose (pronounced gose-uh), a traditional German beer from Leipzig in Germany made using wheat and notable for its use of salt and coriander for flavour. "A salty, sour wheat beer sounds like a hard sell, but they are light and refreshing and delicious on a warm summer's day."
Here are Ben Hartigan's top five craft beer predictions for 2015 with commentary from Neil Miller in italics:
The trend for big flavours will continue (Agreed – we are not close to saturation point yet)
Farmhouse ales and sour beers will continue to be popular (True, but they are still a very, very niche taste)
Wheat beers will come in to their own (I think this should absolutely happen but I have been thinking that for over five years now. I'm still not sure why Kiwis are not loving wheat beers and I do not expect that to change in 2015)
Gose beer will re-emerge as a popular style (I admire Hartigan's courage here but I just cannot see New Zealand drinkers embracing salt and coriander ales in any numbers for a while at least)
Dark and healthy hasn't really taken off here yet but that could change in 2015 (Agreed – this will be the winter these beers really take off)
Source: Showcase Hospitality – http://www.showcasehospitality.co.nz/
.